If you've been live-streaming events for a tiny little while you would know how Instagram has been that one coveted destination, yet very few have been successful and able to reach, due to Instagram's less than friendly API.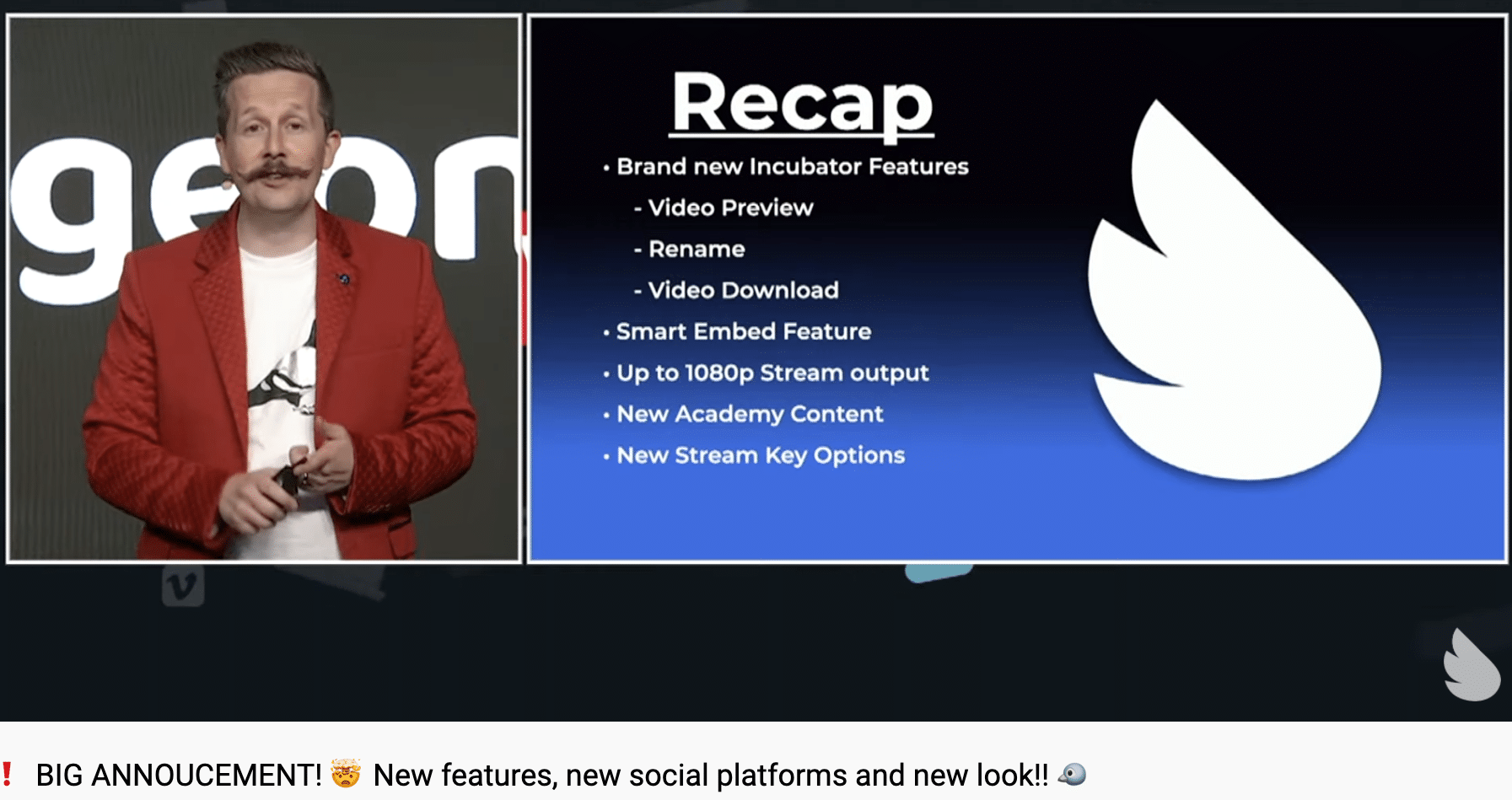 Plus, most us us little people, without a HUGE marketing department behind us, having worked so hard to gain all those followers – organically –  the last thing any of us would want is to have their account taken down due to that one strike for daring to live-stream into Instagram, outside of their native IGTV streaming tool.
One thing is certain, one too many real or virtual, tears have been shed because of this issue, until the very good news that Live Pigeon announced on April 7th when they came on LIVE with a big deal announcement that they've figured out an easy and painless way to stream to Instagram pre-recorded content,  that which once was just a unattainable dream.
So, of course, in the light of such amazing news, we took it as a personal challenge to try it for ourselves and see how easy and smooth the process of letting our Pigeon fly all the way to Instagram might actually be.
To start your own Pigeon on this journey, here are the very short four steps that Brandan has provided in one of his recent newsletters, which would guarantee sending your Pigeon free to roam to three separate destinations (after you signed up for the 14 day trial, or paid as you go, or opted into one of the other three plans offered).
2) Add your headline and pick what style video you want (landscape, portrait, square, etc.) – have not tried the square just yet, it's a very recent format just added to the other two options.
3) Pick a time for your Pigeon to take off.
4) And save that sucker.
Now, those four steps listed above, they're great, but they do not include actually  the step where you'd pick your streaming destination(s).
That's where this blog comes into play to save you some headaches as we share the few lessons learned in our eager desire to let that Pigeon fly as smooth and unrestricted as it can possibly go.
In our live-streaming test from April 10th, we've pretty much followed all the steps and then some because as expected with any innovative way of doing something new, there will always be some bumps along the way. Here were the bumps encountered in our tests:
    1. You can't simply change your mind (sucker!) and change the streaming destinations after you've scheduled your video
Say you uploaded your video, added a fantastic headline, picked the video style you wanted and before you pressed "Go LIVE Now" or decided on a later scheduled time to go live sometimes in the future, you suddenly changed your mind as to where you're going to stream to and you decided to go ahead and update the destinations, only that didn't work that great AFTER scheduling the video so we ended up having to go all the way back to step #1.
     2. If you do change/remove the streaming destinations in the middle of scheduling your video, you will lose the headline title and description of your post
As we were starting the process all the way from scratch because see above, when we got back to step #2, we realized that unfortunately  there was only one very special moment in time when for once we had a genius headline and description idea and now it's all gone, never to be remembered again, because dummy us, didn't think to copy and paste it into a Notes document to have it JUST in case this step didn't work as smoothly as intended.
    3. You can't simply go back to your Live Pigeon Dashboard or move away from your window or you will end your LIVE video by mistake
This here was an odd error we experienced. The good Pigeon landed nicely both on YouTube and Facebook Live, and as we were admiring the nice work there and were padding ourselves on the back,  made the mistake to navigate away from the completed window page we were on and navigates away to the dashboard, and before you could say "coo" the Facebook stream stopped abruptly. YouTube seemed to not care much. Instagram wasn't affected because it wasn't part of this test, we ran several special separate tests for Instagram alone because of the vertical nature of the video format.
4. For Instagram you should choose square or rotate your video in advance if you don't wanna stream a chopped version of your content
Which for who did not know (aka us!) by doing a simple Command+R on your video file on Mac, you can get your video in vertical format without having to render it through your video software.
One thing is worth mentioning here and it's a very important thing. Through all those hurdles and bumps, Live Pigeon's live customer support was better than any other we've ever experienced before! They're truly interested in helping out, innovating on the go, solving problems, putting out fires and fixing all the bugs behind the scenes, in real time, to make sure that the "fix" is ready in no time. All that to say, honestly, there's a high chance by now that some of those issues mentioned above are probably already being dealt with as we speak, and for that Brandan and his team deserve a huge round of applause.
In conclusion, for our live-streaming needs, we decided that streaming concurrently to all three allowable destinations via Live Pigeon won't work for us and our clients that well for now, and while we can easily stream to YT and FB through our current streaming provider with live or pre-recorded video without any issues, we will keep Live Pigeon in mind for streaming to Instagram because we know they're working hard on improving this process, and especially adjusting, in the near future, the video format automatically based on the native video format of the destination chosen.
We'd love to hear about your experience with Live Pigeon if you've used this cloud-based software before and what were your takeaways. Contact us here with your tips & tricks, we'd love to hear from you!