EVENT DESIGN AND IMPLEMENTATION
While the work of a planner is to make sure the event goes off without a hitch, the work of an event designer makes that event memorable. Our creative juices start flowing freely while in this capacity to create the feel, look and atmosphere that not only matches the brand or the cause but also impresses attendees and leave them with a positive memory long after the event is over.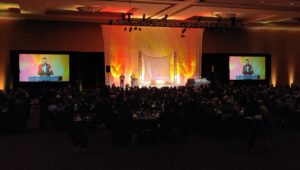 With 15+ years of live events experience, we're proficient at leveraging current and upcoming technology to provide the memorable experience our clients came to expect and will transform any space into an immersive experience through the use of creative lighting elements, LED walls and projection mapping that people will never forget and will talk about it for months to come.
Have Questions About Event Design and Implementation?