Virtual events are here to stay,  in some hybrid capacity or another, and we are constantly listening to the needs of the events community, changing and expanding our solutions to meet and exceed those needs. At this time, during these uncertain times, know that we do have the ability, proven by an amazing track record of successful in-person and now virtual events, to plan, produce and execute a definite plan for your virtual events that will engage your online audience and you will meet your event's goals, fundraising or otherwise. 
Our Virtual Event Management services include:
Project management for transitioning from a live event to a virtual event
Providing you with a timeline with key deadlines and deliverables

Act as project manager to ensure efficient workflow and communication between all stakeholders

Facilitate rehearsals for your presenters and a run-through with our a/v partner

Virtually in touch with our a/v partner during the live stream to oversee the entire virtual event production 
Virtual Event Production
 Work collaboratively with your event's key staff and auctioneer to create program ROS and Script

 Share templates or help with creating the type of documents that our a/v partner will understand and follow

 Coordinate all collection of necessary content & media for live streaming 

Provide design direction to ensure all graphics and visuals are optimized for a virtual event format, either for PPT Picture-in-picture in-studio style with live camera shots placed on top of the powerpoint slides, and live switching between fullscreen presenter shots to PPT PiP when necessary, or for PPT PiP 

through Zoom calling with a virtual MC and virtual benefit auctioneer who will host your 100% virtual event, guiding the audience through several giving levels, video content, ppt slides,  all the while appearing PiP, frequently referencing and displaying the fundraising thermometer so the audience can help your org hit their goal.
Consultation & guidance on best practices for social media engagement
Best practices for sharing and highlighting your fundraising online & platform recommendations

Trivia game recommendations and setup for live streaming

Ways to keep your online audience engaged through social media channels

Tips for creating social media content that's will captivate your audience

Recommendations for pre and post event communication related to registration, bidding, and viewing of the live stream event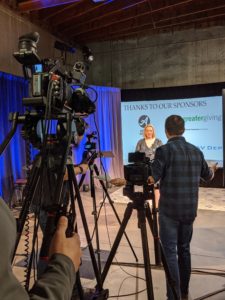 Ready to pivot your event to virtual?
Through the use of mediums such as Event Speaking and Podcasting, we work tirelessly behind the screens to provide you with tangible, technical and tactical event advice to take your event to the next level!