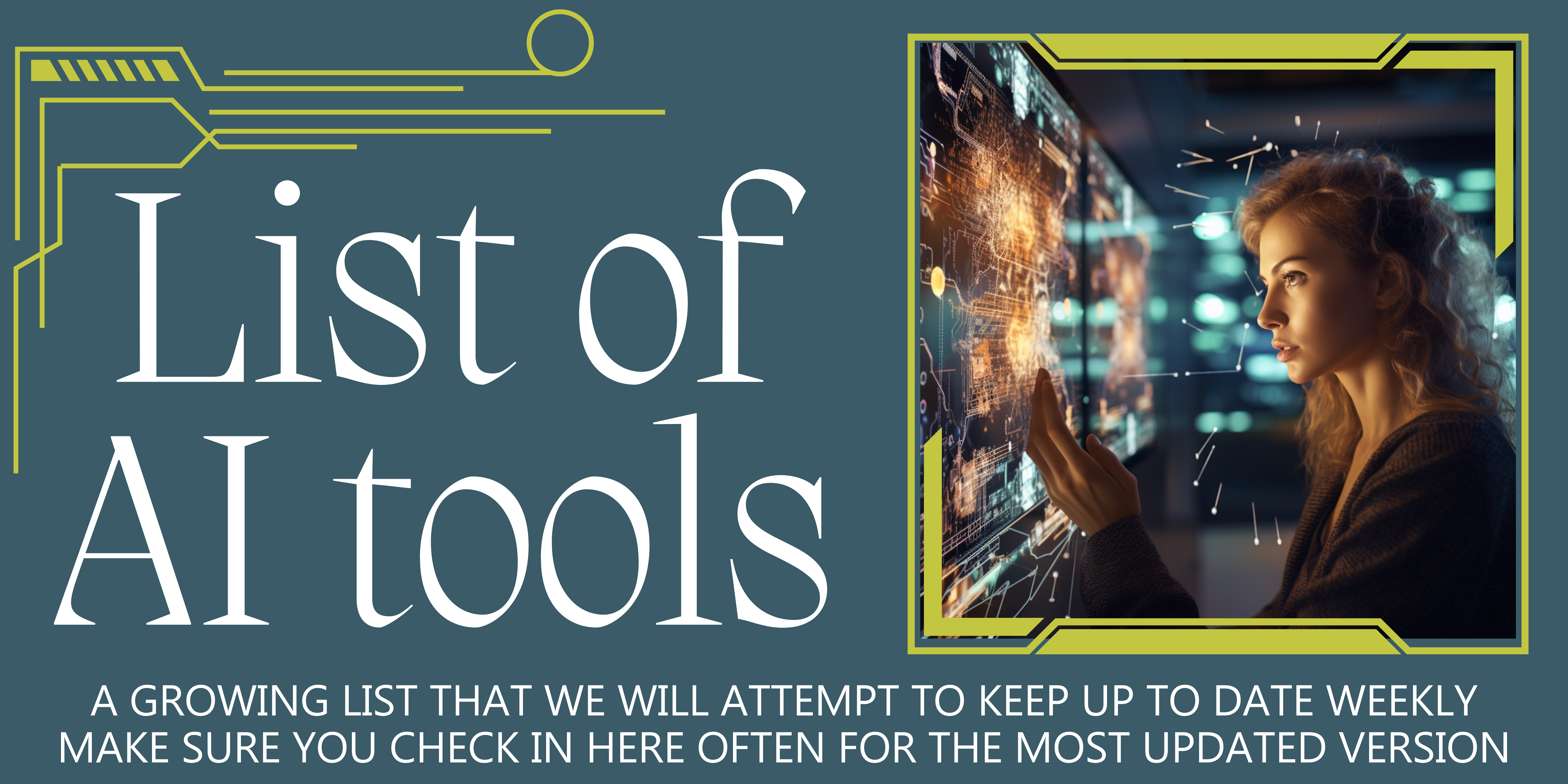 In today's fast-paced business and event environment, staying competitive and fostering growth is a constant challenge. Businesses and events are increasingly turning to AI, particularly generative AI, to address common pain points, drive innovation and ROI. Generative AI tools are instrumental in the pursuit of business growth. These technologies offer efficiency and engagement, providing cost-effective solutions that can reshape industries regardless of their size or niche. By harnessing generative AI, organizations can streamline processes, innovate faster, and gain a competitive edge.
As AI continues to shape our world, it's crucial to consider the ethical implications. These encompass issues like fair use, economic impact, licensing models, and international considerations. Ensuring that AI is deployed responsibly and ethically is essential. Please prioritize transparency, fairness, and accountability.
Use AI responsibly and at your own risk.
This page is our attempt to keep you up to date with the latest AI tools that we test ourselves first and foremost. 

Draft a freelance contract for [job role], with a focus on [issues]. Include a clause on intellectual property rights.
Job role = [insert here]
Issues = [insert here]
Give me 10 lighthearted, interactive X poll ideas for [brand]. How can we make this engaging for users and still align with [brand's growth strategy]?
Brand = [Insert here]
Brand's Growth Strategy = [Insert here]
'Brand Archetype' Framework
Create a marketing campaign outline using the 'Brand Archetype' framework to develop a strong and consistent brand identity for [product/service]. Describe how you would identify the brand archetype and use it to guide our messaging and visual design.
Product = [Insert here]
Analyze [product] and create customer surveys containing questions and organize the survey structure.

Product = [Insert here]
Analyse [business] and write a personalized email specifically aimed at engaging customers who haven't made a purchase in the last 6 months. Keep it concise and make it easy to read.

Business = [Insert here]
Financial Plan for Business
Generate a detailed financial plan for [business]. This should include sales forecasts, a breakdown of expenses, and funding requirements. Expand each field in detail.

Business = [Insert here]
Streamlining Task Management
Intelligent Email Management
Trending New AI Tools
 GetMax- Supercharge your content marketing for maximum traffic with no extra effort (link)
 Show HN- Immerse yourself in learning Korean with a Popup Dictionary (link)
 Gifter- Find the perfect gift with this AI-powered app (link)
 Chatgot- Chat at ease with various AI assistants ready to serve you (link)
 Looka- AI-powered platform to design a logo and build a brand in seconds (link)
 MoonBeam- A long-form writing AI assistant to never write from scratch again (link)
 Morise AI- Reads your videos and generates everything in seconds (link)
 Taskade- Five AI-powered tools in one to supercharge your team productivity (link)
 AI Lawyer- Personal AI lawyer at your fingertips (link)
 Dante- Custom GPT chatbots trained on your data (link)
 Archive Super Search- Using AI, NLP, and neural advances for rapid image & video search. Trusted by 25K brands for instant results (link)
 AI Productivity Analytics- The AI tool for time tracking tasks, habits, and meetings (link)
 MindWhisper- Giving ChatGPT extra powers for superior chats (link)
 Feedbase- Customer feedback widget on your website (link)
 ChatDOC- Chat with any documents and get responses with cited sources (link)
 Meet Millie – AI dating coach (link)
 Simple Phones- Never miss a call from a customer (link)
 Stack AI- The Middle-Layer of AI (link)
 Followr- Automated scheduling, AI content creation & advanced analytics for social (link)
 Synthesia- Create professional videos without mics, cameras, or actors using an AI-generated character (link)
 Gist AI- Free website, YouTube, PDF summarizer, powered by ChatGPT (link)
 We Are Learning- Create immersive learning content like a pro (link)
 GPT Pilot- Dev tool that increases developer's productivity 20x with AI (link)
 Descript- A powerful all-in-one video and podcast editing tool using AI (link)
️ Jasper- An AI copywriter assistant that can generate any kind of marketing copy (link)
 Writesonic- ChatGPT alternative that addresses the limitations of ChatGPT (link)
 MoonBeam- A long-form writing AI assistant to never write from scratch again (link)
 Guidde- Magically create stunning how-to guides with AI (link)
 Softr AI App Generator- Create business apps with just a prompt (link)*
 TranslateVideo 2.0- Translate videos to 75+ languages & unlimited free subtitles (link)
 Relay.app– Workflow automation beyond triggers and actions (link)
 Deta Space- A new computer and OS for the internet (link)
 Pictory- Automatically create short, branded videos from long-form content (link)
 Superhuman- The fastest email experience ever made, with AI-powered features (link)
 HoppyCoppy- Generate better emails and newsletters in seconds with AI (link)
 Browse- Train a robot in 2 minutes to extract and monitor data from any website (link)
 Writesonic- ChatGPT alternative that addresses the limitations of ChatGPT (link)
 The Leap by Thinkific- Build and sell digital products in minutes, powered by AI (link)
 Castmagic- Turn long-form audio into ready-to-use content assets, instantly (link)
 Quiz Gecko- AI online test and quiz maker (link)
️ Play HT- The highest quality AI-powered voice generation platform (link)
 PDF AI- Chat with any document (link)
 Intently- Transform LinkedIn actions into lucrative sales opportunities seamlessly (link)
️ Wois- An asynchronous audiovisual platform tailored for personal brand amplification (link)
 Visily 2.0- Shift from mere ideas to tangible prototypes in seconds, sans the necessity of design capabilities (link)
 Actor Builder- Replicate yourself digitally with the help of just 10 images leveraging AI (link)
 Rytr- An AI writing assistant that helps you create high-quality content, in just a few seconds (link)
 Looka- AI-powered platform to design a logo and build a brand in seconds (link)
 Magic Studio- Create amazing product photos in minutes (link)
️ Highperformr AI Tools- AI-powered tools that elevate your social presence & tasks (link)
 Collato- Chat with your tools to find info, summarize, & create content (link)
 Frame- Work 10x faster in teams (link)
 Descript- A powerful all-in-one video and podcast editing tool using AI (link)
 Bardeen- A no-code automation tool to enhance workflow productivity (link)
 Speak AI- Turn your language data into insights, fast and with no code. (link)
 Castmagic- Turn long-form audio into ready-to-use content assets, instantly (link)
 Maekersuite- Boost your efficiency in video script writing tenfold with the aid of AI (link)
 FastFacts- Stay updated with the most recent listing announcements within two minutes (link)
 Humata- Ask questions and chat with any file instantly using AI (link)
 HeadshotPro – Professional Headshots with AI (link)
 storly.ai- Write your life's story with AI interview algorithm (link)
 OpenArt – AI Image Generator (link)
 AI Easy Prompts- A solution for prompt organization and writing using AI (link)
 Surmount AI- Invest smarter with data-driven strategies (link)
 Insights- Save 80% on underwriting businesses everywhere (link)
 Braintrust- Rapidly develop AI without guesswork (link)
 TweetHunter- All-in-one Twitter growth tool to create content using AI, build an audience, and schedule posts (link)
 Super- Create a website from your Notion database in minutes (link)
 Speak AI- Turn your language data into insights, fast and with no code (link)
Prompt Apps
Prompt Perfect

Prompt Easy
AIPRM for ChatGPT (prompts built-in)
ChatGPT Plugins
ChatGPT's Whimsical Diagram

Access Google Sheet

Chat with Excel

Prompt Perfect

Ask Your PDF

Aaron PDF Chat

Scholar AI

Wolfarm

QuickSEO

Doc Maker
Sources: aa***@ma**.com" data-hovercard-owner-id="130″>Prompts Daily & th**********@ma**.com" data-hovercard-owner-id="130″>The Rundown AI