VIDEO STREAMING & PRODUCTION
A great video engineer is skilled in the art and science of producing compelling visual content. Hands-on knowledge and expertise are paramount in achieving a seamless video production, as even the most advanced equipment is only as good as the engineer behind the controls. Don't just take our word for it – put our skills to the test and experience the difference a top-notch video engineer can make in taking your production to the next level.
Make Your Virtual and Hybrid Events Unforgettable with Anca – your go-to vMix and Streaming Video Switching Engineer with a Decade of Experience! With her expertise in virtual event live-streaming and in-person AV production, she has helped numerous clients create stunning and seamless event experiences that leave lasting impressions. Whether you're planning a virtual or hybrid event, Anca is the go-to video engineer for unmatched technical skills and a passion for excellence. Don't settle for less – contact us today to inquire about rates and availability and make your event unforgettable!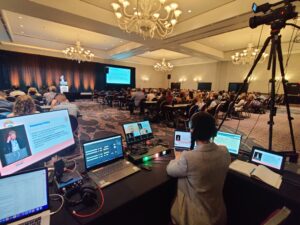 Ready to bring your event to life with stunning visuals and smooth transitions?