While the most recent crowd size restrictions implemented by many state governors are understandable to slow the spread of the novel COVID-19, the result is an uncertain situation for many small businesses and nonprofit organizations who depend on spring fundraisers to meet their annual budgets. However, out of adversity comes innovation. And out of this current adversity came the need for production companies everywhere to re-invent themselves and start producing virtual events, especially if before they haven't done. But just because you want to do something or everyone else is doing it somehow, it doesn't mean you should not plan this pivot carefully and think of all the possible program and technical details that will have to go into producing an excellent virtual event.
With the knowledge in hands coming from successfully producing several pivots in the last few weeks in light of all the changes that have happened so fast around us, we want to provide you with an easy guide on how-to live stream your virtual event professionally and what are the things you should keep in mind as you're trying to reassign your current AV team/partner to do video production and live streaming duties.
Cancelling an event can feel devastating, but if you do decide to cancel your event, we recommend that you send communications out to all your attendees, table hosts, sponsors, vendors, and volunteers as soon as possible. Your guests are expecting you to cancel and you want to leverage this moment to capture their interest and attention to log in and go virtual.
Before we get into it, we want to state that we are not Coronavirus experts. But we are fundraising and event production experts and our goal is to help you continue fundraising in light of restrictions being placed on gatherings during the COVID-19 outbreak, having taken the careful consideration and proper precautions to do it safely if you're moving forward.
How to transform your in-person event into a virtual one
Decide on the event format first. Will it be a Virtual Event or will it be a Hybrid Event?
> With a Virtual Event, you might not see the same return as you had hoped from an in-person event but with enough marketing and excitement build around your upcoming virtual event as well as an engaged MC/speaker it will still allow you to fundraise. People will be able to login, watch, participate and donate towards your mission. A virtual event will allow you to share your program, fulfill your sponsorship benefits and raise money during the broadcast by doing an appeal. You can even build an online 'silent' auction, provide mobile bidding from providers such as Greater Giving to help turn your event into an online fundraising campaign.
> With a Hybrid Event, you will basically hold your regular event, down-scaled to a much smaller audience (keep up with your state's recommendations and requirements as far as current crowd size restrictions) with the added element of a Virtual Live Event. Having a small audience to participate (either visually or audibly through a couple of boom mics set up in the room) in your virtual event live stream can create a lot of excitement that will translate to online engagement on the other side of the screen, and with engagement comes more shares, re-shares and views of your virtual event and fundraising power. This is a great option for event planners who would like to utilize the event venue and capture the in-room atmosphere and excitement of the live event while reaching a larger audience.
Here are some key recommendations for your virtual event (hybrid or not):
> Keep your program to 30 minutes or less (see below what a 30-minute format looks like)
> Run a social media challenge before and during the event to encourage people to share out photos and social media content to spread the word before and during your live virtual event
> Promote your auction packages in advance but close your online auction during the virtual event
> Incorporate a link to the fundraising site on the live streaming platform you choose to use
> Make the link to your stream accessible to everyone so that you can increase your online audience and for this, it's practical to set up your stream page in advance so you can share the link prior to the date
> Have a chat monitor to monitor, reply to comments and drive engagement and excitement during the virtual event
> Have a technical team ready to answer any login technical issues that might occur
> Include in the broadcast videos of your speakers and all the video content or
> Create new content that is short and inspires and captivates an at-home audience that is easily distracted (if time allows)
> Create overlay/lower third graphics to include in the live feed and promote your sponsors & market your auction
> Do an appeal and drive people to a donate button on the same page with the live stream (or a link provided)
> Consider creative ways to also engage your vendors. Can table hosts gather small house viewing parties with catering being delivered to them? Can you Technical Event Producer share photos of the live feed for a look behind the scenes?
> If your speakers are no longer available in person but available and capable for a pre-event video-shoot, consider capturing them before the virtual event to build them into your virtual feed. Same applies for specific sponsors or honorees you might want to include in your live feed.
> Consider setting up pre-roll to run before your live virtual event stream starts, which could be an image, a slide with registration instructions or a countdown video. This will allow you a buffer in case things aren't ready at the scheduled time of your event and it will allow extra time for viewers to tune in. Don't make your audience wait too long though, engagement may dip if you leave your audience on the hook. The pre-roll can then be trimmed out of your video for when viewers come back to watch after the stream has ended.
According to Swaim Strategies, a team of nonprofit fundraising strategists, storytellers and advocates for the nonprofit sector, below is a 30-minute virtual event format they recommend you should be condensing your 2.5-3.5 hr gala down to: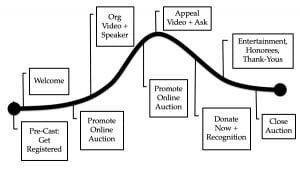 > Pre-Cast instructions: Instructions how to register and login as a bidder
> Go Live: Welcome and introduce incentive to register as a bidder
> Promotion for online auction, begin bidding
> Organizational video
> Organizational speaker
> Continued promotion for online auction, check in on bids
> Appeal video
> Ask
> Donate now, accompany with a push via text to donate now
> Use the appeal board to recognize gifts as they come in
> Entertainment / honoree
> Close the auction
Technical Recommendations for Virtual Events for Event Professionals*:
> First and foremost, you will need a fast and reliable dedicated hardwired internet line and a way to access the Ethernet access point. The internet line must have no upload restrictions or firewall issues. These barriers are most common in office buildings. It is very necessary to have direct access to the on-site IT person. You will need at least 1.5x as much uplink bandwidth as your stream's bitrate. This means that if you want to stream HD, your upload speeds need to be: >20 mbps for 1080p, >10 mbps for 720p, while the download speeds should be greater than 40 mbps. You should perform an on-site test prior to the live stream. Because you need this speed, having a dedicated network is always best for live video streaming.
> Setup a central video control location for your stream, but have your audio monitoring station in a separate room from where you're streaming live. This is required for keeping accurate sound levels and tonal quality throughout the stream. You will need to perform sound checks of all the in-person speakers (MC, Benefit Auctioneer, etc) before the stream starts.
> A sound system package that includes Lavalier/Headset Mics for MC/Presenters and a few audience handheld wireless microphones. We've learned that by out-fitting the MC or Speaker(s) with a headset mic, it frees their hands to gesticulate which through nonverbal communication cues can engage an online audience better. Make sure you watch for audio/video sync issues and test the sync well in advance. Online audiences are far more forgiving of poor video quality than poor audio. Pay special attention to setting up well and testing the audio quality and levels.

 > Prior to the Virtual Event, you will need Admin access or login credentials to the online streaming platforms of choice (ex. Vimeo, Youtube Live, Facebook Live, Periscope etc.) where the stream will be uploaded to. Any content such as videos, slides (PowerPoint, Keynote, etc) , logos, backgrounds, titles you want to appear on the screen must be delivered to your AV team prior to the event.

> 400 sq ft space per video camera with no physical obstructions is the ideal space for optimal camera angles and operation. To best capture different angles, think about having a wide shot of the space, a shot of the audience from the side of the stage (if the event is Hybrid), and a close-up of the person "on stage" from one or two different angles.
> A video streaming solutions** software such as Wirecast Pro along with an external hardware encoder (unless you have a very strong computer with high CPU that is capable and able to encode your live stream, or you're using the the tailor-made Wirecast Gear which has everything you need in one package). An encoder takes your final audio and video stream and turns it into a language that the internet will understand and display as live video.
> A live video streaming production system package tested, re-tested and ready to go:
– 2-5 HD Cameras such as the Sony EX3 cameras with tripod stands and remote zoom handles with operators, unless the cameras are remote controlled PTZ cameras,
– 2-5 camera standing platform, such as the Spider Pod SP-2,
– video encoder (see info above),
– video switcher such as the Analog Way QVU150 switcher with RK-350 remote control or the Roland VR-50HD AV mixer,
– in-room sound and separate audio monitors for live stream sound monitoring
– microphones (headsets, lavalier or lapel, shotgun, handheld mics)
– video shoot stage lighting (semi-optional, depending on room lighting),
– 10-20′ pipe & drape backdrop setup with LED uplighting (optional),
– preview video monitors,
– speaker teleprompter (optional),
– speaker timer (optional).
8. > The professional technical team ready to run and execute your Virtual Event smoothly (Technical Producer, Live Stream Tech Support, Video Technician, Sound Engineer, Lighting Technician, Stage Manager and Camera Operators that understand the narrative of the event in order to capture and produce the right shots).
Here's a great example that our friends at The AV Department put together of what an in-studio Virtual Fundraising Event could look like.
The devil is in the details and so make sure you're always prepared for the worst. Come prepared with extra batteries,  extra gaffer's tape, extra video and audio cables, power cables and strips, network switches and HDMI splitters.
We hope this information helps you gain a better understanding of how-to live stream your virtual events. Naturally, practice makes perfect. Our goal is to help you continue to #keepfundraising.  How do you stream your events?
> Please let us know in the comments or via social media @treefan_events if we've missed anything or if you have any questions or suggestions on this topic.
PS: * If you're looking for easy, cheap and free ways to stream online, these recommendations might not be the right fit for you. Check out this article for different solutions for you.
**We are not associated in any way with Wirecast and do not receive any incentive for promoting their products. This is simply what we have experience and expertise in and have been using for our live streaming of Virtual Events. Because each user will have individual needs and to help you make an informed decision, this article reviews 10 of the best live streaming platforms for professional and business users.