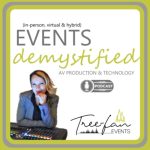 Welcome to a brand new podcast season, a season that is focused on a much-needed topic: Mental and Physical Fitness.
Why? Because of how important this kind of fitness is for any event professional out there that is faced with challenges and needs to build resilience as well as the ability to think clearly and make decisions effectively and efficiently.
Mental fitness, just like physical fitness is just as important and should not be neglected because it helps us prioritize and understand that just as we can improve our physical health by moving our bodies, we can improve our mental health by strengthening our minds.
Taking steps to build our mental fitness enhances our ability to cope with stress and improves our physical health, productivity at work, relationships, and overall happiness.
This Friday, Jan 13th, join me and my good friend, Jason Brown as kick off the season with this first episode during which talk about our natural bodybuilding journeys in the competitive and many times unfair world of fitness, and how that has helped us as AV professionals, and why staying physically and mentally fit is important for all event professionals. So, hang tight, strap on, and enjoy the ride!
———————
Jason Brown – Owner and operator of vid live events, Las Vegas Realty specialist, owner and operator of Fitmeforme online personal training. Jason is also a senior video and LED engineer, and projection specialist – originally from Chicago, Illinois – Jason has lived in Las Vegas for almost two decades, where he began working in video production and held a senior Video Engineer role for Freeman, Vegas's leading production company.
He also developed his own online streaming business, Vid-Live Events, a live-streaming video production company that specializes in Real Estate pre-recorded & live showings by using today's latest technology to improve customer care, marketing, and transitions for all of his clients. His latest endeavor, FitMeforMe – his online personal training business stems from his Love of All things fitness.
He's been training for over three decades and over the years competed in many various physical activities from wrestling to jiu-jitsu, to Muay Thai kickboxing, and bodybuilding as of late, in a physique bodybuilding competition.
Jason doesn't do anything half-measure and while many would like to attribute his physique to good luck and some amazing genes, he's here to break your sweet little heart and tell you that it's actually all just hard work, discipline, and commitment.
=> Connect with Jason on these channels:
Instagram | Tiktok | Facebook : @fitmeforme_lv
———————–
Events: demystified Podcast is brought to you by Tree-Fan Events and your Podcast Host is Anca Trifan, CMP, DES.
Let's chat about your event, and schedule a time that's most convenient for you via the 20 min free consultation link.
Original Podcast Music written and produced by Fable Score Music.
———————–
For event and podcast updates, tips, and tricks of the trade, follow us on these social channels:
Instagram: @eventsdemystifiedpodcast
Our BRAND NEW YouTube channel: https://www.youtube.com/channel/UC2_hOoPp_DhYCvaH2SznPNw
—
Send in a voice message: https://anchor.fm/eventsdemystified/message