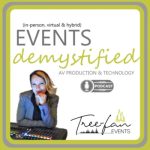 A virtual conversation about Virtual Events from a Nonprofit Fundraising Expert Point of View, because this month is a huge celebration for us! We're turning ONE! This July we're celebrating one year of being on the air aiming to demystify the world of audiovisual and lighting for events and revealing to you everything that's related to event productions, behind the scenes tricks of the trade, as well as insightful tips, strategies, tactics and perspectives which hopefully have helped and will continue to do so, to plan and produce successful events of all types, sizes, and formats: in-person, virtual or hybrid. Because as we discussed in our previous episode, virtual events, in one capacity or another, are here to stay and we're excited to have the opportunity to share from the front lines our experience with producing virtual events. In order to diversify this experience for you, our audience, and give you a wide range of what it's like to plan events during this season, I decided to do something different this month and invite several event professionals from all parts of the event industry to have a virtual conversation about virtual events, and what it's like to plan events during this time, according to their experience, in this new reality of planning and producing events.
Our first featured guest is Lauren Dully Clark, Principal Consultant and Founder of Raise Agent, based in Portland, Oregon, and working with clients throughout the Pacific Northwest and beyond. To find out more about Lauren, her highly skilled team that raises the bar to help nonprofit events succeed and how they do it, listen to our full episode.
——————–
Lauren Clark Dully and Raise Agent can be found at:
https://www.raiseagent.com/who.html and on Social Media: @raiseagent
——————-
For event and podcast updates, tips, and tricks of the trades, find us on Social Media on these channels:
Podcast Website: https://eventsdemystified.com/
Twitter: https://twitter.com/DemystifyEvents
Instagram: https://www.instagram.com/eventsdemystifiedpodcast
Become a Patron on Patreon: https://www.patreon.com/eventsdemystified
I welcome your feedback and suggestions via social media direct messaging or email at po*****@tr***********.com
If you liked what you heard, please show us some love by subscribing to this podcast on Apple Podcasts, Google Podcasts, Spotify, or whichever platform you use to listen to. By leaving a great review and hitting the 5 stars, you make this Podcast visible to other listeners with the same interests as you. Have a fantastic rest of your day!
—
Send in a voice message: https://anchor.fm/eventsdemystified/message