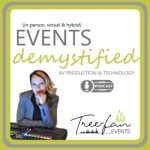 In today's episode, I invited on the air my colleague, Mark Woodworth, an expert in enterprise grade virtual conference platforms to discuss the general strategy and factors when choosing a conference platform, as well as the different features and capabilities that should be compared and considered for the product offering you're reviewing. If you've already tried to determine which conferencing platform is best for your group but realized the amount of time it takes to do through research, you want to tune in to today's episode and save yourself some sweet time!
—————————
You can find more about Mark Woodworth on his LinkedIn profile or his Website
—————————
For event and podcast updates, tips and tricks of the trades, find us on Social Media on these channels:
Podcast Link: https://eventsdemystified.com/
Instagram: https://www.instagram.com/eventsdemystifiedpodcast
Become a Patron on Patreon: https://www.patreon.com/eventsdemystified
—————————
I welcome your feedback and suggestions via social media direct messaging or email at po*****@tr***********.com/">po*****@tr***********.com If you liked what you heard, please show us some love by subscribing to this podcast on Spotify, Apple Podcasts, Google Podcasts, or your favorite listening platform. By leaving a great review and hitting the 5 stars, you make this Podcast visible to other listeners with the same interests as you.
—
Send in a voice message: https://anchor.fm/eventsdemystified/message