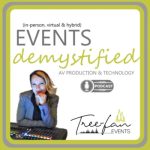 Welcome to a new episode of "Event: demystified" brought to you by Tree-Fan Events, with your host, Anca.
Today I have the pleasure of inviting with me on the air a special guest, Beth Sandefur of Beth Sandefur Events, a woman on fire in the fundraising virtual event arena, planning and producing several dozen virtual events so far, one more creative than the other. Beth is a seasoned event planner with a strong background in development and hands-on experience in theatrical production, her efforts focusing on the planning and execution of fundraising galas, typically with a large auction component. It has been my pleasure to carry on a candid conversation with her about emerging practices & trends that we're seeing and have seen so far coming out of the virtual events world with a focus on fundraising and gala virtual events. In this episode Beth is going to share her hard learned tips and tricks and we'll even cover a few ways to stay sane in the whirlwind of virtual event planning and producing. So tune in and let's dive right in!
—————————
You can find Beth here: https://www.bethsandefur.com/ and on Instagram @bethsandefur
—————————
For event and podcast updates, tips and tricks of the trades, find us on Social Media on these channels:
Podcast Link: https://eventsdemystified.com/
Instagram: https://www.instagram.com/eventsdemystifiedpodcast
Twitter: https://twitter.com/DemystifyEvents
Become a Patron on Patreon: https://www.patreon.com/eventsdemystified
—————————
I welcome your feedback and suggestions via social media direct messaging or email at po*****@tr***********.com/" rel="ugc noopener noreferrer" target="_blank">po*****@tr***********.com If you liked what you heard, please show us some love by subscribing to this podcast on Spotify, Apple Podcasts, Google Podcasts, or your favorite listening platform. By leaving a great review and hitting the 5 stars, you make this Podcast visible to other listeners with the same interests as you.
Here's to joy, happiness, warmth and health! Until next time!
—
Send in a voice message: https://anchor.fm/eventsdemystified/message