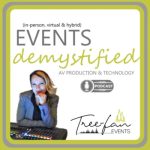 Welcome to part 2 of our 2020 Year in Review episode of "Events: demystified" brought to you by Tree-Fan Events, with your host, Anca. Hopefully you got to listen to the first part already and you're ready to embark on the last part of this full of wisdom-nuggets episode!
A quick overview, the premise of this episode is built around the fact that we wanted to produce a soundbite compilation out of all the amazing episodes recorded in 2020 because we've had some really good ones. With the risk of repeating myself, If you haven't gotten the chance to listen to them all, I highly encourage you to go back and listen when you have time over the holidays.
In the first part of the 2020 Year in Review episode, we covered some of the concerns that were lurking on the horizon at the time each episode was recorded and the steps the event professionals that I got the opportunity to interview have taken to pivot their events to virtual, what type of personal and professional challenges each one of them faced in the very beginning, and we also covered audience engagement and interaction and many tips were provided. In this episode we will touch on virtual event platforms, discuss key elements of a successful virtual event, touch on hybrid events and review some trends to watch out for in 2021. Today you will hear from:
Lauren Dully Clark of Raise Agent,
Brent Berg of Valiant Productions,
Todd Campbell and Brian Lehmann of The Av Dept,
Canaan Hackler of Hackler Productions,
Fundraising Ambassador Johnna Wells,
Benefit Auctioneer Patrick Siver of gEvents LLC,
Event Platform Specialist and Strategist Mark Woodworth,
Event Planner & Producer Beth Sandefur, and
Auctria Event Platform Coordinator, Laurie Hochman.
Tune in and cheers to all of you out there survivors and thrives, 2020 has got nothing on us!
—————————
For event and podcast updates, tips and tricks of the trades, find us on Social Media on these channels:
Podcast Link: https://eventsdemystified.com/
Instagram: https://www.instagram.com/eventsdemystifiedpodcast
Twitter: https://twitter.com/DemystifyEvents
Become a Patron on Patreon: https://www.patreon.com/eventsdemystified
—————————
I welcome your feedback and suggestions via social media direct messaging or email at po*****@tr***********.com/" rel="ugc noopener noreferrer" target="_blank">po*****@tr***********.com If you liked what you heard, please show us some love by subscribing to this podcast on Spotify, Apple Podcasts, Google Podcasts, or your favorite listening platform. By leaving a great review and hitting the 5 stars, you make this Podcast visible to other listeners with the same interests as you.
Thank you for sticking with me this year, for listening to this podcast, thank you to all of you amazing guests that joined me and enriched my experience with your knowledge and expertise. Happy Holidays to all of you friends, close and far, old and new, and the lost one too!
—
Send in a voice message: https://anchor.fm/eventsdemystified/message