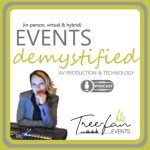 Welcome to a new episode of "Events: demystified" brought to you by Tree-Fan Events, with your host, Anca.
To celebrate our 30th episode in style, I've invited with me on the air, a featured guest that knows how to have a good time and how-to enable his audience to have a fantastic time as well! The president and founder of California Coast Auctions and co-founder of Idaho Benefit Auctions, Zach Krone, has designed his business with one goal in mind: to unite the world of entertainment with the world of fundraising. In 2019, Zack has done an impressive 265 in-person events and 54 virtual events in 2020. He believes that the spirit, community, and excitement of a live auction is the best way to raise money, awareness, and generate interest in an organization and that you have to give people a reason to walk through your doors, or in a virtual format, stay glued to a screen, and the best way to do that is by entertaining and inspiring people in the process. Tune in for a fantastic episode with Benefit Auctioneer Specialist, Virtual Fundraising Expert, Zack Krone!
—————————
You can find Zack on LinkedIn or on Instagram @zackkrone_auctioneer
—————————
For event and podcast updates, tips, and tricks of the trades, follow us here or on these Social Media on these channels: Podcast Link: https://treefanevents.com/podcasts/
Instagram: https://www.instagram.com/treefan_eve…
Facebook: https://www.facebook.com/TreeFanEvents/
Twitter: https://twitter.com/treefan_events
I welcome your feedback and suggestions via social media direct messaging or email at po*****@tr***********.com If you liked what you heard, please show us some love by subscribing to this podcast on Spotify, Apple Podcasts, Google Podcasts, or your favorite listening platform. By leaving a great review and hitting the 5 stars, you make this Podcast visible to other listeners with the same interests as you. Here's to joy, purpose, happiness & health! Until next time!
—
Send in a voice message: https://anchor.fm/eventsdemystified/message