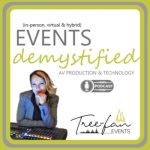 Welcome to a new episode of "Events: demystified" brought to you by Tree-Fan Events, with your host, Anca.
What should you expect from this episode? 
Firstly, I will share a few thoughts with you since I just celebrated this past weekend another trip around the Sun and I am so grateful for being here, being alive and well!
And (not) lastly, in the second part of the episode, I will share the five free tools I kept drumming about that I use frequently during my production of virtual events,  especially if like me, you're sometimes solo-producing and live-streaming events.
So, let's dive right into today's episode!
—————————
Blog post related to the second part of the episode:
https://treefanevents.com/2021/04/08/five-free-live-streaming-tools/  
—————————
David & Goliath inspirational paraphrased with permission, courtesy of Marcus Taylor @unlockelevation
—————————
For event and podcast updates, tips, and tricks of the trades, follow us here or on these Social Media on these channels:
Podcast Audio Link:  https://eventsdemystified.com  
Podcast Video Link:  https://vimeo.com/533741599 
Instagram: https://www.instagram.com/eventsdemystifiedpodcast
Facebook: https://www.facebook.com/TreeFanEvents
Twitter: https://twitter.com/treefan_events
—————————
If you liked what you heard, please show us some love by subscribing to this podcast on Spotify, Apple Podcasts, Google Podcasts, or your favorite listening platform. By leaving a great review and hitting the 5  stars, you make this Podcast visible to other listeners with the same interests as you. Here's to joy, purpose, happiness & health! Until next time!
—
Send in a voice message: https://anchor.fm/eventsdemystified/message
Support this podcast: https://anchor.fm/eventsdemystified/support