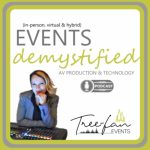 In this brand new episode of "Events: demystified" brought to you by Tree-Fan Events, I have the honor of sharing the airwaves with the wonderful "queen bee" AJ Steinberg who will delight you with her tips and expertise in event-based fundraising as she's set to change the world one event at the time! During today's episode we touch on:
? sponsorship strategies for events,
? treating your AV production vendors as your partners "in crime" when producing successful events,
? hybrid fundraising events likened to houseboats, and
? fundraising tips and strategies on how to gracefully transition back to in-person events now that we're ready to do that.
Bring a notebook and tune into the full Podcast Episode for all the tips!
—————————
Find more about A.J. here: https://www.queenbeefundraising.com/
————————— —————————
For event and podcast updates, tips, and tricks of the trades, follow us here or on these Social Media on these channels:
Instagram: https://www.instagram.com/eventsdemystifiedpodcast
Patreon: https://www.patreon.com/eventsdemystified
Podcast Website: https://eventsdemystified.com
—————————
If you liked what you heard, please show us some love by subscribing to this podcast on Spotify, Apple Podcasts, Google Podcasts, or your favorite listening platform. By leaving a great review and hitting the 5 stars, you make this Podcast visible to other listeners with the same interests as you. Here's to many successfully hybrid events! Until next time!
—
Send in a voice message: https://anchor.fm/eventsdemystified/message
Support this podcast: https://anchor.fm/eventsdemystified/support