VIRTUAL & HYBRID EVENT SERVICES
Welcome, you came to the right place!

We've got everything you need to host a successful virtual or hybrid event, be that a virtual or hybrid annual meeting, virtual or hybrid a gala, a virtual or hybrid fundraising event, or any other type of virtual or hybrid event you've got in the works that you need help with producing and live-streaming. With us, you and your organization can take full advantage of our expertise, experience and skills of planning and producing in-person, virtual and hybrid events and make your next virtual event a success.
Our Virtual Event Producer will work closely with you and your team to determine your event's specific needs and define how we can best assist you to maximize your event's potential and meet your goals with all the technology and production tools at hand. Our vast group of strategic partners includes AV production houses, online auction platforms, benefit auctioneers and fundraising ambassadors, event planners, scriptwriters, mobile bidding platforms, enterprise-grade event platforms, event services, and technology houses which complement and expand our skills & solutions. We're always happy to make a recommendation, so feel free to reach out to us, by contacting us here.
While live-streaming has been a new reality for many, it has not been for us, we have provided live-streaming services for our in-person events for many years. This year however, this particular service request as grown tremendously and so we spent the last nine months completely immersed in the virtual technology and production world assisting over 60+ local and national organizations produce their very first virtual/digital events.
We've used live-streaming production tools for several years before live-streaming became a buzzword, and so this year provided us with endless opportunities to guide organizations and nonprofits to continue fundraising through online auctions and LIVE broadcasts. 
As we are constantly listening to the ever-changing needs of the event community,  we are growing and expanding our solutions to meet and exceed those needs, so please stay tuned for continual updates to our service offerings on this page.
Our Virtual & Hybrid Event Services include:
If you're not sure which service is better suited for you and your event, start with
We provide you with planning, technical & production recommendations for the best possible execution plan for your virtual/hybrid event, give you recommendations for event formats, virtual event platforms specific to your event's needs, online auction platforms, pros and cons to the ones we've used in the pas, provide recommendations for creating engagement and co-creation opportunities for your online audience and share tips for event content creation, technical and production requirements for executing a flawless virtual/hybrid event.
100% Virtual Event Planning, Management & Production  – call/email for price
In-Studio/On-Location Virtual Event Management & Production – call/email for price
Hybrid Event Planning, Management & Production – call/email for price
By Hybrid Event we mean planning & hosting an event catering to an In-Person Audience and an Online Audience concurrently
Helping and guiding you pre-event and the day-of to turn your in-person event into an engaging virtual/hybrid event experience by: 
Managing & overseeing all technology and production elements with our live-streaming production partner(s)
Providing production timeline and deadlines for all necessary content deliverables assets
Coordinating collection and management of all necessary event assets, content & media for live streaming of the virtual/hybrid event
Scheduling and running pre-event technical run-throughs, reviewing speaker(s) technical call-in setup & content per script & ROS
Creating or Reviewing all live or pre-recorded content, graphics, overlays, and visuals are optimized for a virtual event format
Providing remote live-streaming services for remote speakers for integration with the client's enterprise-grade virtual conference platforms
Working closely with the studio director AV partner or the  virtual event platform technical team to integrate the broadcast flawlessly
Take on the Technical Event Producer role during the broadcast of the virtual event calling the show per Cue2Cue Technical Script
Please contact us for pricing for each of the above packages.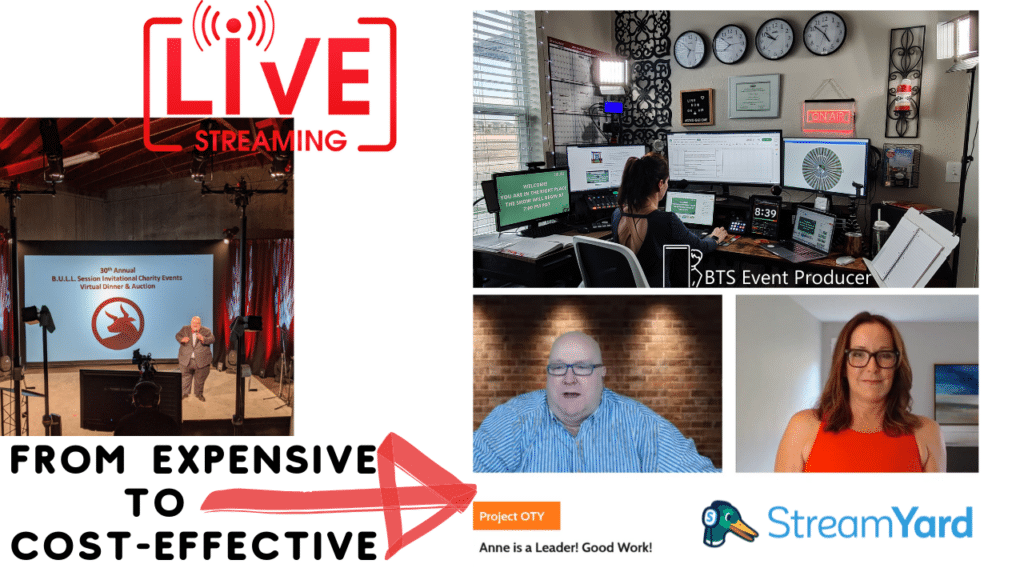 Why go with us?
We do all the heavy lifting for you by pairing the technology and production know-how with the event planning & management knowledge and producing the behind-the-scenes live-streaming broadcast. We have 20+ years of event production experience, live-streaming corporate events, meetings, conferences, and fundraising galas. We match your event with the right technology & production tools to create a memorable and engaging experience for your attendees.


In addition to the services listed to the left, we've got you fully covered completely with several extra packages to choose from.
Ready to host a virtual or hybrid event? Contact us now
Through the use of mediums such as Event Speaking and Podcasting, we work tirelessly behind the screens to provide you with tangible, technical, and tactical event advice to take your event to the next level!