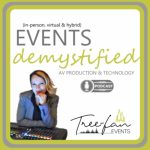 If you're an event professional working under any capacity in the event industry dealing with Technology, Audio Visual, and Productions, this Podcast is for you! Each episode I will aim to demystify the world of in-person, virtual, hybrid event production and technology by sharing insightful tips, tricks, strategies, and tactics that will help you plan and execute successful events of all types, formats, and sizes! For that I get to invite and pass the mic to industry leaders, influencers, and event entrepreneurs from our event community to come on the air with me and share tangible technical and planning tools and strategies from their personal & professional experiences so that you can put those tips and strategies to work right away.
This podcast is produced by Tree-Fan Events, a woman-led boutique event production agency that will come alongside you, offering event planning and technical consultation, strategic event design, production management, and live-streaming for live, virtual, and hybrid events.
I welcome your feedback and topic ideas via email po*****@tr***********.com or via direct message on Instagram @eventsdemystifiedpodcast.
Please subscribe on your favorite listening platform and leave a five-star review to make this podcast visible to more event professionals like yourself.
**************************
Find us on Social Media on these channels:
Instagram: https://www.instagram.com/eventsdemystifiedpodcast
Podcast Website: https://eventsdemystified.com/
Podcast Link: https://treefanevents.com/podcasts/
Facebook: https://www.facebook.com/TreeFanEvents/
Twitter: https://twitter.com/treefan_events
**************************
Original Music courtesy of @fablescore https://soundcloud.com/fablescore/
**************************
"Events: demystified" Podcast is sponsored by Tree-fan Events, a woman-led boutique event production agency that is offering technical consultation, event design, and production management for live, virtual, and hybrid events. We are passionate about planning and producing memorable event experiences for our clients so that your audience can activate more change in their personal and professional lives all the while enabling you to reach your event and/or fundraising goals with the use of technology.
www.treefanevents.com
—
Send in a voice message: https://anchor.fm/eventsdemystified/message
Support this podcast: https://anchor.fm/eventsdemystified/support