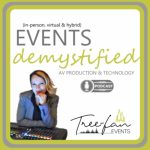 If this is your first time listening to this Podcast, my hope is that you will walk away after this episode with some relevant and helpful information regarding the audio-visual and lighting technology side of events to empower you and give you some inside tech knowledge that will make it easier and much smoother for you to plan your next event! My goal is to share with you insightful tips, strategies, tactics and perspectives which will help you plan and produce successful events of all types and sizes, regardless of your AV budget. Weather your a beginner or a veteran, I want to provide you with enough relevant information that will take your events to the next level. You don't need to be as fluent as your technician but knowing how things work will improve your ability to identify your AV needs, and especially manage your event's AV budget!
I've always been naturally a technologically curious person and because of that, tech feels very comfortable to me and while I want to hope it comes just as natural to many others, the reality is, most event planners are terrified of tech, don't want to deal with anything technology and especially technology gone wrong. I get that and that's where I hope to come into play. Tree-Fan Events was born out of the desire to create memorable events in partnership with my clients but also to educate our clients whenever the opportunity arises about the importance of working with professionals and what our role is as audiovisual providers in the fast growing events industry. Using quality AV equipment by highly skilled professionals is mostly always a recipe for success with the end result most favorable and memorable.
So in this episode, let's talk AV and why is it so important for events?
Studies have shown that the use of AV in classrooms is highly effective as it stimulates the class better which results in improved learning and higher grades for students. The same is true for all types of events that require audience connection and participation. So let's explore more!
For event and podcast updates, tips and tricks of the trades, find us on Social Media on these channels:
Podcast Link: https://treefanevents.com/podcasts/
Instagram: https://www.instagram.com/treefan_events/
Facebook: https://www.facebook.com/TreeFanEvents/
Twitter: https://twitter.com/treefan_events
Please subscribe to this Podcast on iTunes, Google Podcasts or wherever you listen to your Podcasts, leave a great review, hit the 5 stars, it really helps this girl out and makes this Podcast visible for other people and event planners like yourself.
To find more information about Tree-Fan Events, our services, our event work, what our fans have to say about us, we'd love for you to join us at www.treefanevents.com .You can also find us on Instagram and Twitter @treefan_events or on Facebook and Pinterest @treefanevents.
I welcome your feedback and suggestions via social media direct messaging or email at po*****@tr***********.com
Have a fantastic rest of your day! Until next time!
—
Send in a voice message: https://anchor.fm/eventsdemystified/message
Support this podcast: https://anchor.fm/eventsdemystified/support