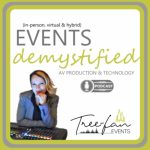 The levels of stress an event professional goes through are pretty incredible. CareerCast made event planning the 4th most stressful job of the year. 4th most stressful, right after Airline Pilots, Police officers and broadcasters. I mean, some days it feels like I'm landing the plane if know what I mean and some days I just ain't with how much stuff is going on. Newsflash: stress levels this high are not good for you!
While everybody in the industry (me included) goes through this especially during our busiest of seasons when we're not just planning and producing one event, but many back to back events we all seem so focused on our work and tend to forget about the body that keeps everything going. And so, if this bonus episode will help you take one of the five tips shared and implement it as a healthy habit, my mission will be accomplished.
For event and podcast updates, tips and tricks of the trades, find us on Social Media on these channels:
Podcast Link: https://treefanevents.com/podcasts/
Instagram: https://www.instagram.com/treefan_events/
Facebook: https://www.facebook.com/TreeFanEvents/
Twitter: https://twitter.com/treefan_events
I welcome your feedback and suggestions via social media direct messaging or email at po*****@tr***********.com">po*****@tr***********.com
If you liked what you heard, please show us some love by subscribing to this podcast on iTunes, Google Podcasts or whichever platform you use to listen to. By leaving a great review and hitting the 5 stars, you make this Podcast visible to other listeners with the same interests as you.
—
Send in a voice message: https://anchor.fm/eventsdemystified/message
Support this podcast: https://anchor.fm/eventsdemystified/support