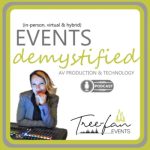 In today's episode we get to speak with Jen Barth, the founder and director of a non-profit organization located in Boise, Idaho and serving the women of the Treasure Valley. Jen has an amazing heart for the women in her city and through events, small groups and involvement in the community, she's doing everything in her power to reach these women, meet them where they are in their journey and support their needs in any way she can! We'll learn what it takes to reach these women, the work behind the scenes that is necessary for a non-profit to function and touch the lives of so many people! We'll speak about family as well as strategies to staying focused and on mission, about staying healthy and managing stress, about managing volunteers and teams that make events successful and what is the right marketing approach to reaching your targeting audience when promoting your events. Stay tuned for today's nuggets of wisdom sprinkled throughout the duration of this episode!
Small disclaimer before we dig into it: This episode has been recorded over Zoom Voice – Over – IP and therefore the quality is not the highest at times so please bear that in mind as you listen.
For event and podcast updates, tips and tricks of the trades, find us on Social Media on these channels:
Podcast Link: https://treefanevents.com/podcasts/
Instagram: https://www.instagram.com/treefan_events/
Facebook: https://www.facebook.com/TreeFanEvents/
Twitter: https://twitter.com/treefan_events
I welcome your feedback and suggestions via social media direct messaging or email at po*****@tr***********.com">po*****@tr***********.com
If you liked what you heard, please show us some love by subscribing to this podcast on iTunes, Google Podcasts or whichever platform you use to listen to. By leaving a great review and hitting the 5 stars, you make this Podcast visible to other listeners with the same interests as you.
—
Send in a voice message: https://anchor.fm/eventsdemystified/message