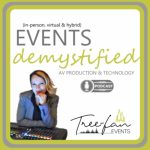 In this episode I will be talking about ways of getting the most out of your AV partner, I will be discussing AV RFPs or proposals, what it takes to hire an AV supplier or vendor and what questions would you be asking when partnering with a new AV provider. While AV provider is used quite a lot in the industry, I like to refer to this title as AV partner, because what you really want out of this relationship is a partnership, you want someone that will have your back and look out for you, will understand your vision, will work tirelessly towards accomplishing your goals, and will basically provide more than just AV. Remember, you're hiring a provider to manage a significant portion of your event for you. If you don't trust them as your partners then they're not the right fit for you. A true partner will offer input based on their experience & expertise, even in areas that they're not technically being "paid" to oversee, and that simple act can make a world of difference in the outcome of your next event because you should be looking for more than just an equipment provider. This will be a great topic for any event planner and professional that finds themselves in the position to create such new partnerships and relations. So stick around and let's explore this topic together!
For event and podcast updates, tips and tricks of the trades, find us on Social Media on these channels:
Podcast Link: https://treefanevents.com/podcasts/
Instagram: https://www.instagram.com/treefan_events/
Facebook: https://www.facebook.com/TreeFanEvents/
Twitter: https://twitter.com/treefan_events
I welcome your feedback and suggestions via social media direct messaging or email at po*****@tr***********.com" rel="ugc noopener noreferrer" target="_blank">po*****@tr***********.com
If you liked what you heard, please show us some love by subscribing to this podcast on iTunes, Google Podcasts or whichever platform you use to listen to. By leaving a great review and hitting the 5 stars, you make this Podcast visible to other listeners with the same interests as you.
—
Send in a voice message: https://anchor.fm/eventsdemystified/message
Support this podcast: https://anchor.fm/eventsdemystified/support