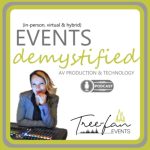 45th episode this year and the 100th episode of the Events: demystified Podcast!
So many things to say, so much to be proud of and celebrate!
So stoked about the impact the podcast has made, and especially the latest season, and the ripple effect it has had in our industry, and this is just the beginning!
So proud to see the hard work put in weekly over the last 3.5 years be recognized and the podcast catching fire, and all of you listeners have contributed to it by adding your own spark every time you shared this podcast with your friends and your connections.
You made this podcast visible to so many event professionals globally, also so grateful for every featured guest brought on that added so much value by sharing their hard-earned insightful tips, tricks, and tactics that helped so many other meeting professionals plan and execute successful events of all types, formats, and sizes!
JOIN US IN 2023 AS WE EXPAND OUR REACH EVEN FURTHER!
Connect with me for a 1-on-1 2023 strategy planning meeting here: https://calendly.com/treefan_events/hybrid_event_consultation
———————–
Learn more about Podcast Host: https://eventsdemystified.com/about-me/
Connect with Anca on these channels:
—————
"Events: demystified" Podcast is brought to you by Tree-Fan Events and your Podcast Host is Anca Trifan, CMP, DES.
Let's chat about your event, and schedule a time that works for you via the 20 min free consultation link.
Original Podcast Music written and produced by Fable Score Music.
—————-
For event and podcast updates, tips, and tricks of the trade, follow us on these social channels:
Instagram: @eventsdemystifiedpodcast
Our BRAND NEW YouTube channel: https://www.youtube.com/channel/UC2_hOoPp_DhYCvaH2SznPNw
—————-
—
Send in a voice message: https://anchor.fm/eventsdemystified/message