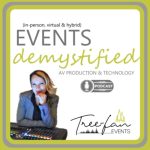 During the last episode conversation we focus on all the #behindthescenes AV professionals and the benefits of mental and physical fitness, today we're going to talk about the same topic, only focusing on #eventprofs, #meetingprofs, and their attendees. And so, joining me on the air to continue the conversation centered around Wellness and Mental Fitness is David Stevens, a 20-year veteran planner, and the 4x self-proclaimed Fittest Male #EventProf in the Global Crossfit Open Games. He has planned meetings, events, and incentives in media, live entertainment, agency, association, and corporate organizations. He has earned a Delos Wellness for Meetings and Event Certificate, is Pandemic Meeting Event Design certified, BizBash 500, Connect 40 Under 40, and Smart Meetings Planner of the year. He credits the ability to create true experiences for event attendees to the clarity and mental breaks workouts bring to his day. He and the Olympian Meeting team, including a Medical Doctor and Nutrition Coach, authored a white paper on the increased ROI that can come from increasing wellness elements in your meeting. Download the "Increase ROI by increasing wellness" whitepaper here.
During today's conversation we're going to touch on:
How the industry has changed over the last 20 years
Tips and strategies to increasing ROI by Increasing Wellness at events
Why #eventprofs should place wellness and fitness at the top of their list, Events professionals should take care of themselves.
Why should it matter to their attendees and what are the actual benefits.
You can connect with David on these channels:
Twitter : @davidTstevens
Instagram: @davidTstevens
Register to compete in the Crossfit Open games here: https://games.crossfit.com/
Download the 2023 Crossfit Games Rules Book here.
—————
"Events: demystified" Podcast is brought to you by Tree-Fan Events and your Podcast Host is Anca Trifan, CMP, DES.
Let's chat about your event, and schedule a time that works for you via the 20 min free consultation link.
Original Podcast Music written and produced by Fable Score Music.
—————-
For event and podcast updates, tips, and tricks of the trade, follow us on these social channels:
Instagram: @eventsdemystifiedpodcast
Our BRAND NEW YouTube channel: https://www.youtube.com/channel/UC2_hOoPp_DhYCvaH2SznPNw
—
Send in a voice message: https://anchor.fm/eventsdemystified/message