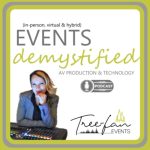 Excited to have Anh Nguyen – head of customer success at twine, join me on the air and discuss in a very open and authentic way the future of work as it relates to remote and hybrid event roles for #EventProfs, the relationship between event tech & event planners, new technologies that we should watch out for, important skills to develop in 2023, work-life balance, as well as the back story behind #EventProfsBreakShit and the Global Meetings Industry Day (GMID) Goes Virtual initiative.
Prior to joining the twine app, Anh founded Spark Event Management, an award-winning, full-service event management firm, and the Spark Event Collective, a network of independent planners collaborating to deliver event experiences. Anh is a seasoned business event professional who possesses over 15 years of event design, production, and management experience. She has managed a vast array of events and is known for her keen eye for detail while being able to lead, inspire and manage large, global teams.
Connect with Anh on these channels:
Twitter: @atnguyen
Twitter: @wearetwine
——————————
"Events: demystified" Podcast is brought to you by Tree-Fan Events and your Podcast Host is Anca Trifan, CMP, DES.
Let's chat about your event, and schedule a time that works for you via the 20 min free consultation link.
Original Podcast Music written and produced by Fable Score Music.
—————-
For event and podcast updates, tips, and tricks of the trade, follow us on these social channels:
Instagram: @eventsdemystifiedpodcast
Our BRAND NEW YouTube channel: https://www.youtube.com/channel/UC2_hOoPp_DhYCvaH2SznPNw
—
Send in a voice message: https://anchor.fm/eventsdemystified/message