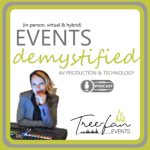 With me on the air I've got a trailblazer in the meetings and events industry, Adrian Segar – the Founder of CONFERENCES THAT WORK. He has convened, designed, and facilitated hundreds of meetings over the last forty years, specializing in participant-driven and participation-rich events that become what attendees actually want and need. He's the author of three books on meeting design and runs conferencesthatwork.com, the world's most popular website on meeting design and facilitation. Adrian is an acclaimed presenter at just about every major meeting industry conference, where he leads workshops on creating truly effective meetings that people love. He's been named 3 years in a row, 2019-2021, as one of the 100 most influential people in the event industry, one of Connect Meeting's 2021 Connect Corporate 15 Trailblazers over 50, his books are selected as must-reads for event professionals by Meetings Net.
UNIQUE FACTS
Adrian has a Ph.D. in high energy particle physics, he owned and ran a solar manufacturing business in the late '70s, and has been a consultant of various kinds for the last forty years.
It took him about 50 years to realize that he loves to facilitate connections between people. That was after decades of convening conferences on topics he was professionally involved in.
Adrian developed his participant-driven and participation-rich approach to meeting design by accident in 1992.
—————-
You can connect with Adrian on his website: https://www.conferencesthatwork.com/
—————
"Events: demystified" Podcast is brought to you by Tree-Fan Events and your Podcast Host is Anca Trifan, CMP, DES.
Let's chat about your event, and schedule a time that works for you via the 20 min free consultation link.
Original Podcast Music written and produced by Fable Score Music.
—————-
For event and podcast updates, tips, and tricks of the trade, follow us on these social channels:
Instagram: @eventsdemystifiedpodcast
Our BRAND NEW YouTube channel: https://www.youtube.com/channel/UC2_hOoPp_DhYCvaH2SznPNw
—
Send in a voice message: https://anchor.fm/eventsdemystified/message