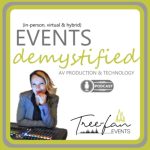 With me on the air today I have Merijn van Buuren, founder of Event Mender, on a mission to make the world a better place together ? by developing a tool that takes out all the guesswork for event organizers. This tool is a fully customizable one-stop shop for organizing wildly successful and profitable events, from speaker acquisition, and marketing to AV services and virtual platforms all in one central place.
We're going to be touching on this tool as well as the importance of finding the right event platform, the future of events in 2023, what it looks like to be bringing the industry together, event tech, monetization, engagement, building a business, and much more.
A few more things about Merijn. Whilst helping physical event professionals embrace virtual events during the pandemic, Merijn realized that evaluating different platforms was taking way too much time and that there must be a better way to do this to help even more event professionals.
—————
Connect with Merijn in the following places:
—————
"Events: demystified" Podcast is brought to you by Tree-Fan Events and your Podcast Host is Anca Platon Trifan, CMP, DES.
Let's chat about your event, and schedule a time that works for you via the 20 min free consultation link.
Original Podcast Music written and produced by Fable Score Music.
—————-
For event and podcast updates, tips, and tricks of the trade, follow us on these social channels:
Instagram: @eventsdemystifiedpodcast
Our BRAND NEW YouTube channel: https://www.youtube.com/channel/UC2_hOoPp_DhYCvaH2SznPNw
—
Send in a voice message: https://anchor.fm/eventsdemystified/message