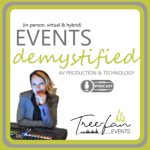 Welcome to our new episode this month! Today my goal is to introduce to you a helpful tool with a great number of features to assist in raising much needed funds during this pandemic via virtual fundraising, and for that, guess what, I have a surprise for you! I have another guest with me today and we will be talking about this tool that any organization that is looking to fundraise and raise much needed funds needs to know about. This episode is very much targeted towards the nonprofit sector more so than our general thematic episodes where we talk about event and audio-visual productions, but even so and even if this is not necessarily your interest point, I believe there will be a lot of opportunities to learn about something that normally is not part of your repertoire, if you may, so tag along and maybe learn a thing or two, and in the wise words of Jack Lewmann, "Never stop learning, for when we stop learning, we stop growing".
—————————
You can learn more about Auctria at:
https://www.auctria.com/features/ and on Instagram @auctria, Pinterest @auctria, Facebook Group: Auction Team Talk
—————————
For event and podcast updates, tips and tricks of the trades, find us on Social Media on these channels:
Podcast Link: https://treefanevents.com/podcasts/
Instagram: https://www.instagram.com/treefan_events/
Facebook: https://www.facebook.com/TreeFanEvents/
Twitter: https://twitter.com/treefan_events
I welcome your feedback and suggestions via social media direct messaging or email at po*****@tr***********.com/" rel="ugc noopener noreferrer" target="_blank">po*****@tr***********.com If you liked what you heard, please show us some love by subscribing to this podcast on Spotify, Apple Podcasts, Google Podcasts, or your favorite listening platform. By leaving a great review and hitting the 5 stars, you make this Podcast visible to other listeners with the same interests as you.
Here's to safety and health! Until next time!
—
Send in a voice message: https://anchor.fm/eventsdemystified/message