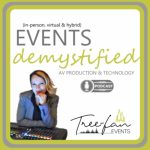 Welcome friend to a new episode of "Event AV and Lighting, demystified" brought to you by Tree-Fan Events, with your host, Anca. On today's episode I invited on the air my colleague, Mark Woodworth, an expert in enterprise grade virtual conference platforms to discuss the general strategy and factors when choosing a conference platform, as well as the different features and capabilities that should be compared and considered for the product offering you're reviewing. If you've already tried to determine which conferencing platform is best for your group but realized the amount of time it takes to do a through research, you want to tune in today's episode and save yourself some sweet time!
—————————
You can find more about Mark Woodworth on his LinkedIn profile or his Website
—————————
Check out Hubb.me if you've got a healthy budget and looking for great data capture and customizable branding, It is a stand-alone Software as Service so you'll need an event registration platform and AV provider for in-studio or pre-recorded content but is a solid platform with great support and design.
For a conference of less than 300 people, Hopin.to is an affordable option. They have a self-service model with monthly plans you can cancel anytime. Anyone can create an account and play in a sandbox without any expense. Great for the do it yourself event organizer on a budget. Event registration is integrated in the platform and no a/v provider is necessary.
For event planners seeking a solid middle ground between cost, features, and support, Bevy.com offers a best of class enterprise app. It delivers an end-to-end virtual experience with as much or little account support as you need. The app comes with white label branding, custom landing page, seamless registration with survey questions, peer-to-peer and group networking, virtual stage, breakout rooms, sponsors, vendor booths, and an intuitive and easy to grasp dashboard for attendees. The biggest takeaway is the app was designed with a community-first perspective and it shows in the design and their outstanding and prompt customer support.
CVENT.com rolled out their Virtual Attendee Hub on August for their CONNECT Virtual 2020 event. CVENT offers scalable event services so you can go end-to-end with their help or pick services à la carte, a dedicated account manager will guide you through options. A unique twist to data capture is their Engagement Scoring model, which delivers traditional metrics but weighting can be customized based on your criteria.
—————————
For event and podcast updates, tips and tricks of the trades, find us on Social Media on these channels:
Podcast Link: https://treefanevents.com/podcasts/
Instagram: https://www.instagram.com/treefan_events/
I welcome your feedback and suggestions via social media direct messaging or email at po*****@tr***********.com/">po*****@tr***********.com If you liked what you heard, please show us some love by subscribing to this podcast on Spotify, Apple Podcasts, Google Podcasts, or your favorite listening platform. By leaving a great review and hitting the 5 stars, you make this Podcast visible to other listeners with the same interests as you.
—
Send in a voice message: https://anchor.fm/eventsdemystified/message
Support this podcast: https://anchor.fm/eventsdemystified/support