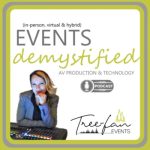 Welcome to a new episode of "Event AV and Lighting, demystified" brought to you by Tree-Fan Events, with your host, Anca.
Today I have the pleasure of inviting with me on the air a rockstar and veteran of the event industry, Lynn Edwards Owner of Proper Planning, bringing to the table over 30 years of experience and a wealth of knowledge in the areas of event management, overall event strategy, creative event design, event marketing, sponsorship development, contract negotiations, vendor management and overall meeting production.
During today's conversation we will focus on tips and strategies on overcoming challenges in this current virtual event world. Lynn's genius way of constantly drawing parallels between the in-person event experience to the digital one, will captivate you & make things so much easier to understand.  Tune in and let's dive right in!
Mentioned in this episode: Four different types of Virtual Event Platforms
—————————
You can find Lynn on LinkedIn: Lynn Edwards, on Instagram: @proper_planning and here www.properplanningteam.com
—————————
For event and podcast updates, tips and tricks of the trades, find us on Social Media on these channels:
Podcast Link: https://treefanevents.com/podcasts/ 
Instagram: https://www.instagram.com/treefan_events/ 
Facebook: https://www.facebook.com/TreeFanEvents/ 
Twitter: https://twitter.com/treefan_events 
I welcome your feedback and suggestions via social media direct messaging or email at po*****@tr***********.com/" target="_blank" rel="ugc noopener noreferrer">po*****@tr***********.com If you liked what you heard, please show us some love by subscribing to this podcast on Spotify, Apple Podcasts, Google Podcasts, or your favorite listening platform. By leaving a great review and hitting the 5 stars, you make this Podcast visible to other listeners with the same interests as you.
—————————
Stay tuned to a very special episode airing out on December 18th: 2020 Year in Review!
—
Send in a voice message: https://anchor.fm/eventsdemystified/message