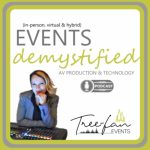 Welcome to a new episode of "Events: demystified" brought to you by Tree-Fan Events, with your host, Anca.
In today's episode, we're diving into the role of an Event Producer for events and seeing things from a producer's corner (perspective), with Timothy Blackton, former Senior Event Producer at Nike World Headquarters in Oregon, where he planed, coordinated and performed World Class live productions and where he also worked with mentionable clients such as Nike, KFC, Cole Haan, Converse, North Face, Adidas & Freightliner to name a few. He's a Creative Producer, Director, Writer and Actor on a fun independent short film entitled, "TECHS: Behind the Scene of the People Behind the Scene", a refreshing and hilarious comedy that first screened last fall at the Portland Comedy Film Festival where it earned a Best Comedy Film Award Nomination. Stay tuned for tips on producing & management styles that empower your team, how-to deal with an event that goes sideways, what makes for a great team, and of course, tips for personal being in a challenging industry.
—————————
You can find Tim on LinkedIn, and on Twitter and Instagram @revtimmyb
Watch TECHS here: https://youtu.be/ut24UgZlHdY
—————————
For event and podcast updates, tips and tricks of the trades, find us on Social Media on these channels:
Podcast Link: https://treefanevents.com/podcasts/
Instagram: https://www.instagram.com/treefan_events/
Facebook: https://www.facebook.com/TreeFanEvents/
Twitter: https://twitter.com/treefan_events
I welcome your feedback and suggestions via social media direct messaging or email at po*****@tr***********.com/" rel="ugc noopener noreferrer" target="_blank">po*****@tr***********.com If you liked what you heard, please show us some love by subscribing to this podcast on Spotify, Apple Podcasts, Google Podcasts, or your favorite listening platform. By leaving a great review and hitting the 5 stars, you make this Podcast visible to other listeners with the same interests as you.
Here's to joy, happiness, warmth and health! Until next time!
—
Send in a voice message: https://anchor.fm/eventsdemystified/message
Support this podcast: https://anchor.fm/eventsdemystified/support