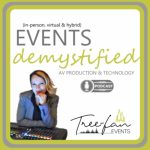 Welcome to a new episode of "Events: demystified" brought to you by Tree-Fan Events, with your host, Anca.
Today we get to tackle the subject of virtual weddings and events, uncover marketing strategies for weddings, virtual and hybrid events and much more with my featured guest, Ashley Hawks of Forever Bride and EideCom Event Productions from Minneapolis, Minnesota. A few fun facts about Ashley: she grew up in her mother-owned bridal shop where she learned hands-on everything she knows about business and marketing, she has no college degree yet has been a force in the business/marketing/sales world for almost 20 years, she designed and helped develop a fantastic virtual platform for the wedding industry (Foreverbride.com) which is now being used by EideCom to help organizations across the country produce virtual & hybrid conferences, trade shows, and multi-day meetings. The platform is called SECOND STAGE.
—————————
You can find Ashley on LinkedIn, and on Instagram @ashleyxhawks
—————————
For event and podcast updates, tips and tricks of the trades, find us on Social Media on these channels:
Podcast Link: https://treefanevents.com/podcasts/
Instagram: https://www.instagram.com/treefan_events/
Facebook: https://www.facebook.com/TreeFanEvents/
Twitter: https://twitter.com/treefan_events
I welcome your feedback and suggestions via social media direct messaging or email at po*****@tr***********.com/" rel="ugc noopener noreferrer" target="_blank">po*****@tr***********.com If you liked what you heard, please show us some love by subscribing to this podcast on Spotify, Apple Podcasts, Google Podcasts, or your favorite listening platform. By leaving a great review and hitting the 5 stars, you make this Podcast visible to other listeners with the same interests as you.
Here's to joy, happiness, warmth and health! Until next time!
—
Send in a voice message: https://anchor.fm/eventsdemystified/message
Support this podcast: https://anchor.fm/eventsdemystified/support