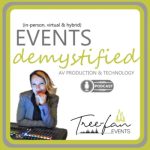 Welcome to a new episode of "Events: demystified" brought to you by Tree-Fan Events, with your host, Anca.
Today's episode features an incredible event professional that's been around the event industry for a while, probably before I was born (not to make him sound old, just very experienced!). Bruce Rosard has already proven to be an influential figure for this podcast, one of the main influencers to have made a really good case for us changing the podcast's name to reflect more accurately the topics discussed and capture the interest of more event professionals wanting to expend their expertise in the world of events, may they be virtual, hybrid or in-person.
During today's episode, Bruce will share a wealth of information on creating real and authentic engagement during your virtual events, as well as tips on how to generate interest for your online event with content that truly engage an online audience in this new and wild world of virtual and hybrid events.
So buckle up and let's dive in!
—————————
You can find Bruce on LinkedIn, and via email: br***@ar****.travel
Find out more about ARIVAL, as well as insight, resources and research relevant to this large community of creators of tours, activities, attractions & unique experiences.
—————————
For event and podcast updates, tips and tricks of the trades, find us on Social Media on these channels:
Podcast Link: https://eventsdemystified.com/
Instagram: https://www.instagram.com/eventsdemystifiedpodcast
Twitter: https://twitter.com/DemystifyEvents
Become a Patron on Patreon: https://www.patreon.com/eventsdemystified
—————————
I welcome your feedback and suggestions via social media direct messaging or email at po*****@tr***********.com/">po*****@tr***********.com If you liked what you heard, please show us some love by subscribing to this podcast on Spotify, Apple Podcasts, Google Podcasts, or your favorite listening platform. By leaving a great review and hitting the 5 stars, you make this Podcast visible to other listeners with the same interests as you.
Here's to joy, purpose, happiness & health! Until next time!
—
Send in a voice message: https://anchor.fm/eventsdemystified/message