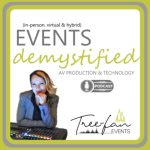 This is "Events: demystified" brought to you by Tree-Fan Events and I'm your host, Anca.
On the show with me today I have Emee Pumarega of EJP Events, a veteran of the hospitality and event industry, who began working in hospitality and events over 20 years ago, bringing a world of event knowledge in handling events as diverse as all-weekend wedding bashes; international activist conferences; and corporate milestone celebrations. We will be discussing time management when planning virtual events (meetings and conferences) and other important tips related to networking and surrounding yourself with friendors that support your virtual event's production.
A few fun facts about Emee:
– she is the child of immigrants from the Philippines; herself and her siblings and I are the first of our family to be born in the US,
– she once thought she would be a scientist or researcher and studied science at Yale,
– she finds the recent surge of storytelling in business interesting, and always wants to reference it back to Indigenous culture and practice rather than think of it as a purely business or US American practice that "comes out of nowhere".
—————————
You can find Emee on LinkedIn or on Instagram @ejpevents
—————————
For event and podcast updates, tips, and tricks of the trades, follow us here or on these Social Media on these channels:
Podcast Link: https://treefanevents.com/podcasts/
Instagram: https://www.instagram.com/treefan_events/
Facebook: https://www.facebook.com/TreeFanEvents/
Twitter: https://twitter.com/treefan_events
I welcome your feedback and suggestions via social media direct messaging or email at po*****@tr***********.com">po*****@tr***********.com
If you liked what you heard, please show us some love by subscribing to this podcast on Spotify, Apple Podcasts, Google Podcasts, or your favorite listening platform. By leaving a great review and hitting the 5 stars, you make this Podcast visible to other listeners with the same interests as you. Here's to joy, purpose, happiness & health! Until next time!
—
Send in a voice message: https://anchor.fm/eventsdemystified/message