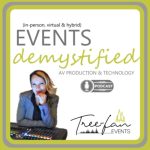 This is "Events: demystified" brought to you by Tree-Fan Events with your Host, Anca. On today's show I have Marisa Cali, a virtual event producer from San Diego who supports the advancements of women in sports and inspires her community to be present for the conversations that matter.
A few fun facts about Marisa:
mindfulness & meditation has helped her tremendously and she hopes to inspire this practice in others as well,
women in tech is something she's passionate about and encourages other women to not be afraid of,
work/life balance is the key to business growth.
During today's episode we will touch on and discuss topics such as:
the most significant barrier that to overcome as a woman working in a predominately male-dominated niche
what does it mean to stand in your power as a female live-streamer
do's and dont's of Live Streaming
fool-proof streaming strategy
balance work and life responsibilities
—————————
You can find Marisa on these channels:
http://www.instagram.com/liveonsocialnow
http://www.twitter.com/liveonsocialnow
http://www.liveonsocialnow.com
—————————
For event and podcast updates, tips, and tricks of the trades, follow us here or on these Social Media on these channels:
Instagram: https://www.instagram.com/eventsdemystifiedpodcast
Patreon: https://www.patreon.com/eventsdemystified
Podcast Website: https://eventsdemystified.com
—————————
Tree-Fan Event's Hybrid Event Production Services: https://treefanevents.com/hybrid-event-services/
—————————
If you liked what you heard, please show us some love by subscribing to this podcast on Spotify, Apple Podcasts, Google Podcasts, or your favorite listening platform. By leaving a great review and hitting the 5 stars, you make this Podcast visible to other listeners with the same interests as you. Here's to many successful hybrid events! Until next time!
—
Send in a voice message: https://anchor.fm/eventsdemystified/message