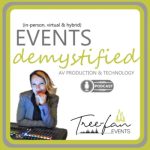 During today's episode we are honored to be joined by Mahoganey Jones, CMP, DES, HMCC – founder and CEO of Events Specialists, a Canadian turnkey event management and production company. Our conversation today focuses around hybrid event experiences, event metrics and KPIs, being prepared for the unexpected, holistic event budgets for hybrid productions, risk management, and much more. Make sure to tune in!
"Events: demystified" Podcast is brought to you by Tree-Fan Events and your Unicorn Podcast host is Anca Trifan.
—————————
You can find Mahoganey on LinkedIn, or on social @mahoganeyjones
—————————
For event and podcast updates, tips, and tricks of the trades, follow us on these social channels:
Instagram: https://www.instagram.com/eventsdemystifiedpodcast
Become a Patron on Patreon: https://www.patreon.com/eventsdemystified
—————————
Tree-Fan Events offers Hybrid Event Production Services: https://treefanevents.com/hybrid-event-services/
—————————
If you like our podcast, please show us some love by subscribing to this podcast on your favorite listening platform and following us on Instagram. By leaving a great review and hitting the 5 stars, you make this Podcast visible to other listeners with the same interests as you. Until next time!
—
Send in a voice message: https://anchor.fm/eventsdemystified/message