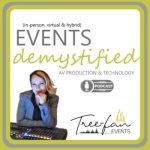 I am exceptionally giddy today to be talking about a topic near and dear to my heart: calling a virtual or a hybrid event as a show director. With the continued prevalence and increase in virtual and hybrid events, a lot of event professionals have needed to learn virtual and hybrid technical production skills to execute and deliver successful events. So today I've invited Heather Sharpe, a multi-award-winning Event Producer/ Director/ Planner, an instructor for the world-renowned Event Leadership Institute, and we'll first define a few important terms as far as event production roles go, and then get into the meat of:
producing and delivering successful virtual and hybrid events;
evaluating & organizing content,
developing a cue sheet or technical script, and
how to direct/call a virtual or hybrid show.
Tune in and let's analyze our capabilities and discuss best practices in Calling Hybrid & Virtual events.
"Events: demystified" Podcast is brought to you by Tree-Fan Events and your Unicorn Podcast host is Anca Trifan.
—————————
You can find Heather on her website: www.SherpaGroup.ca, or on social @Heather.Sharpe
—————————
For event and podcast updates, tips, and tricks of the trades, follow us on these social channels:
Instagram: https://www.instagram.com/eventsdemystifiedpodcast
Become a Patron on Patreon: https://www.patreon.com/eventsdemystified
—————————
Tree-Fan Events offers Hybrid Event Production Services: https://treefanevents.com/hybrid-event-services/
—————————
If you like our podcast, please show us some love by subscribing to this podcast on your favorite listening platform and following us on Instagram. By leaving a great review and hitting the 5 stars, you make this Podcast visible to other listeners with the same interests as you. Until next time!
—
Send in a voice message: https://anchor.fm/eventsdemystified/message