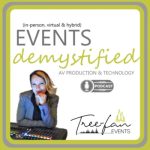 Diversity, equity, and inclusion (DEI) is a term used to describe policies and programs that promote the representation and participation of different groups of individuals, including people of different ages, races and ethnicities, abilities and disabilities, genders, religions, cultures, and sexual orientations. In today's episode, I have Andrew Roby of Andrew Roby Events – a proud Army Vet who happens to be a great Event and Wedding Planner who's used to adapting and pivoting, having transitioned from a successful army career with frequent moves and deployments to becoming a leader in event planning. Join us as we embark to demystify one sensitive topic today, along with a couple of others:
Diversity, equity, and inclusion in the event industry and how we can do and be better.
How we can improve the way we produce events and how clients experience them
Work-life balance and what can be done to enjoy not working
"Events: demystified" Podcast is brought to you by Tree-Fan Events and your Unicorn Podcast host is Anca Trifan.
—————————
You can find Andrew on his website: www.andrewrobyevents.com or on social @andrewrobyevents
—————————
For event and podcast updates, tips, and tricks of the trade, follow us on these social channels:
Instagram: https://www.instagram.com/eventsdemystifiedpodcast
Become a Patron on Patreon: https://www.patreon.com/eventsdemystified
—————————
Tree-Fan Events offers Hybrid Event Production Services: https://treefanevents.com/hybrid-event-services/
—————————
If you like our podcast, please show us some love by subscribing to this podcast on your favorite listening platform and following us on Instagram. By leaving a great review and hitting the 5 stars, you make this Podcast visible to other listeners with the same interests as you. Until next time!
—
Send in a voice message: https://anchor.fm/eventsdemystified/message