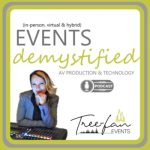 Tune in this brand new episode of Events: demystified Podcast as your host, Anca Trifan, CMP, DES will be demystifying with her featured guest, Jazmyn Breanna – a passionate, skilled, and established live event producer and creative strategist with an early fascination for production and logistics, the following topics:
– some of the ways in which we can make events that matter,
– mitigate risks with virtual and hybrid events, and
– curate an elevated guest experience that your audience won't miss and ever forget.
"Events: demystified" Podcast is brought to you by Tree-Fan Events and your Unicorn Podcast host is Anca Trifan.
—————————
You can find Jazmyn on her website: www.jazmynbreanna.com or on social @jazmynbreannaevents
—————————
For event and podcast updates, tips, and tricks of the trades, follow us on these social channels:
Instagram: https://www.instagram.com/eventsdemystifiedpodcast
Become a Patron on Patreon: https://www.patreon.com/eventsdemystified
—————————
Tree-Fan Events offers Hybrid Event Production Services: https://treefanevents.com/hybrid-event-services/
—————————
If you like our podcast, please show us some love by subscribing to this podcast on your favorite listening platform and following us on Instagram. By leaving a great review and hitting the 5 stars, you make this Podcast visible to other listeners with the same interests as you. Until next time!
—
Send in a voice message: https://anchor.fm/eventsdemystified/message