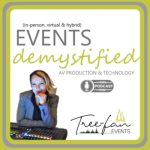 As we approach the final days of 2021, I am incredibly grateful, inspired by, and proud of the remarkable people who make up the event industry. In this episode, I will cover seven main takeaways from the many episodes recorded and conversations had, one of the main takeaways being:
"Don't forget the things you've learned in 2021".
But I have also taken the liberty to go somewhat rogue and expressed some of my professional challenges, something I have never talked about on this podcast.
This past year has tested me in so many ways, from losing family members to COVID to losing young girlfriends to cancer, to having to rebuild my business from the ground up, but it has also tested us as industry professionals in ways other people did not experience nor understand.
This has not been easy, and however, as I sit and reflect today, I remain in awe of each of our clients, partners, listeners, and our event industry as a whole.
We had all hoped that we would launch into 2022 with excitement, hope, and positivity… ready to set fear and uncertainty aside.
We are far more prepared for the challenges that lay ahead, and while it can be scary and frustrating to be faced again with yet another uncertainty, this is a fight we will not lose.
Every event I've worked on requires a diverse team in order for that project to be successful, and many events turned out to be a 1000-piece jigsaw puzzle; and in order for all the pieces to fit in the right place, we must have the right partners around us in order to create pictures and tell stories that create impactful and memorable experiences.
Once that happens, what a gift that is, to our clients, and all those in attendance that are impacted tremendously.
So, while it may not be how we believed 2021 would end and 2022 would unfold, we remain hopeful that this is just another bump in the road.
Thank you for your commitment to my small but fierce production agency and to this podcast.
My wish for each of you is that these last days of this year and the first of 2022 find you surrounded by those whom you love and fill your heart with joy: your family, friends, and even co-workers, celebrating what is most important and what you're passionate about.
Without you, I could not do what we are doing over here. Your ongoing loyalty, your feedback, and your donations are what fuels our efforts, and we thank you in advance for your continued support.
Happy New Year Friends!
Your Host,
Anca Trifan
—————————————–
"Events: demystified" Podcast is brought to you by Tree-Fan Events
Connect with me on here or via social @treefan_events
—————————
For event and podcast updates, tips, and tricks of the trades, follow us on these social channels:
Instagram: https://www.instagram.com/eventsdemystifiedpodcast
Become a Patron on Patreon: https://www.patreon.com/eventsdemystified
—————————
Tree-Fan Events offers Hybrid Event Production, BOOK a FREE 20 min consultation here
—————————
Thank you for rating the show 5 stars and leaving a great review to make this Podcast visible to other listeners with the same interests as you.
—
Send in a voice message: https://anchor.fm/eventsdemystified/message