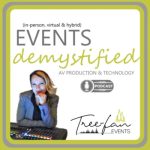 "The tougher the setback, the better the comeback." ― Bernard Osei Annang, Life, The Theory of Everything: Succeeding in the 21st century and beyond
This is by far, one of the hardest lessons to learn during a challenging season, and for the event industry, it feels like the challenging season has no end.
Tune into this brand new episode ft Courtney Stanley – an award-winning changemaker recognized globally, a keynote speaker, and event emcee – as we will explore and demystify these topics:
1. how to turn your setbacks into comebacks in the events industry,
2. the purpose behind brand authenticity, and what does it take to build an authentic brand,
3. how imposter syndrome manifests in our lives and strategies to help overcome it.
—————————
"Events: demystified" Podcast is brought to you by Tree-Fan Events and your Podcast Host is Anca Trifan.
Let's chat about your event, schedule a time that works for you via the 20 min free consultation calendar link.
—————————
More about Courtney:
Courtney Stanley is the CEO of Courtney Stanley Consulting (Keynote Speaker, Event Emcee, Career Coach), and she has spent 10 years helping professionals, entrepreneurs, and organizations engage in game-changing, impactful conversations that empower individuals to tap into their true potential, improve team and culture dynamics, and drive meaningful change, and she is recognized as one of the event industry's most impactful change-makers. Courtney is the youngest member to have ever been elected to Meeting Professionals International's (MPI) International Board of Directors. Courtney serves on the Events Industry Sexual Harassment Task Force, MPI's Women's Advisory Board, is a Meetings Mean Business Ambassador, and is the co-founder of the award-winning movement, #MeetingsToo.
You can find Courtney on social IG/TW/FB @courtneyonstage or on Linkedin: linkedin.com/in/courtneystanley
—————————
For event and podcast updates, tips, and tricks of the trade, follow us on these social channels:
Instagram: https://www.instagram.com/eventsdemystifiedpodcast
Become a Patron on Patreon: https://www.patreon.com/eventsdemystified
—————————
Tree-Fan Events offers Hybrid Event Production Services: https://treefanevents.com/hybrid-event-services/
—————————
If you like our podcast, please show us some love by subscribing to this podcast on your favorite listening platform and following us on Instagram. By leaving a great review and hitting the 5 stars, you make this Podcast visible to other listeners with the same interests as you. Until next time!
—
Send in a voice message: https://anchor.fm/eventsdemystified/message