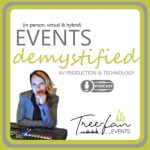 Tune into this brand new episode in which we will explore and demystify several topics related to event design, including:
how and why intentional event design is vital to create events with impact,
how the human-centered design is the wave of the future for all business, not just for events,
What is intentional event design and why should we care about it?
For this topic, I brought on Anthony Vade, CED, Director North America, Event Design Collective GmbH, Innovative High-stakes Event Design. Proudly known as an instigator, creator, and change agent, for over 20 years he has helped event stakeholders create meaningful and memorable connections with attendees. He has worked with the largest audiovisual, event tech, and event production companies in the industry. Designing and executing large-scale conferences, corporate and entertainment events in virtual, hybrid, and live scenarios. He continues to push experience design boundaries in his role as the North American Director with Event Design Collective.
A couple of fun facts about Anthony:
He is a World Explorer that has worked on events as varied as Music Festivals and Concert touring to medical conventions and television production.
He studied Archeology in the university with a focus on Human Evolution, which gave him a passion for evolutionary psychology which he applies in event design regularly.
—————————
You can find Anthony on Linkedin: https://www.linkedin.com/in/anthonyvade
Find the Event Canvas download here: https://edco.global/download/
—————————
"Events: demystified" Podcast is brought to you by Tree-Fan Events and your Podcast Host is Anca Trifan.
Let's chat about your event, and schedule a time that works for you via the 20 min free consultation calendar link.
Original Podcast Music written and produced by Fable Score.
—————————
For event and podcast updates, tips, and tricks of the trade, follow us on these social channels:
Instagram: https://www.instagram.com/eventsdemystifiedpodcast
Become a Patron on Patreon: https://www.patreon.com/eventsdemystified
—————————
Tree-Fan Events offers Hybrid Event Production Services: https://treefanevents.com/hybrid-event-services/
—————————
If you like our podcast, please show us some love by subscribing to this podcast on your favorite listening platform and following us on Instagram. By leaving a great review and hitting the 5 stars, you make this Podcast visible to other listeners with the same interests as you. Until next time!
—
Send in a voice message: https://anchor.fm/eventsdemystified/message