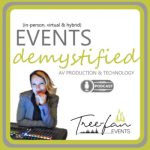 During this episode, I get to sit down with Megan Martin of JUNO, an event strategist with advanced training and extensive experience in strategic meeting management, event development and planning, virtual and hybrid events, educational programs, and association management. Some of the topics that we will be covering:
The economic impact of events,
Designing hybrid event experiences,
The need and importance of always thinking creatively/innovatively
A few things about Megan Martin. She has been working in the hospitality industry for over a decade. Megan has worked in the hospitality industry for over 15 years as a business event professional, an affiliate faculty member at Metropolitan State University of Denver School of Hospitality, Events, and Tourism, and now as an account executive with JUNO. Megan earned her bachelor's in communications from Columbus State University and obtained her master's degree in public administration from Kennesaw State University. She has also earned her Certified Meeting Professional and Digital Event Strategists designations. Megan has extensive volunteer experience with many industry organizations and is currently serving as Immediate Past President of the PCMA Rocky Mountain Chapter. Megan grew up on the east coast and currently lives in Montana. She is an avid baker and home chef that loves spending time with her dogs, Montana and Byrd, and partner, Jason.
—————————
You can find more about Megan here: https://MeganMartinCMP.com
Or connect with her on here: https://www.instagram.com/MeetingsMegan
—————————
"Events: demystified" Podcast is brought to you by Tree-Fan Events and your Podcast Host is Anca Trifan.
Let's chat about your event, and schedule a time that works for you via the 20 min free consultation calendar link.
Original Podcast Music written and produced by Fable Score.
—————————
For event and podcast updates, tips, and tricks of the trade, follow us on these social channels:
Instagram: https://www.instagram.com/eventsdemystifiedpodcast
Become a Patron on Patreon: https://www.patreon.com/eventsdemystified
—————————
Tree-Fan Events offers Hybrid Event Production Services: https://treefanevents.com/hybrid-event-services/
—————————
If you like our podcast, please show us some love by subscribing to this podcast on your favorite listening platform and following us on Instagram. By leaving a great review and hitting the 5 stars, you make this Podcast visible to other listeners with the same interests as you. Until next time!
—
Send in a voice message: https://anchor.fm/eventsdemystified/message