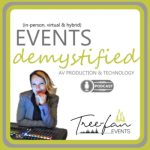 Almost to the date, beginning of 2020 I was sitting down, in my studio, with IBL Events co-founder, Anna Marie Aldinger recording Episode #10 and discussing trade shows and the news of this new virus that we didn't know much about at the time… How much has our world has changed since then?
And so, circling back on the show today I have Nick Aldinger, the CEO of IBL Events, one of Idaho's largest producers of trade shows and conferences, and we get to answer that question, as well as explore a few interesting topics during today's conversation, such as leadership lessons learned during challenging times, embracing change and finding a new business stream during a time when most event organizers, especially in the tradeshow space, struggled to stay afloat, and how do trade shows perform in the virtual event space.
—————————
You can find more about Nick here: https://www.linkedin.com/in/nickaldinger/
IBL Events: https://www.iblevents.com/shows
—————————
"Events: demystified" Podcast is brought to you by Tree-Fan Events and your Podcast Host is Anca Trifan.
Let's chat about your event, schedule a time that works for you via the 20 min free consultation calendar link.
—————————
For event and podcast updates, tips, and tricks of the trade, follow us on these social channels:
Instagram: https://www.instagram.com/eventsdemystifiedpodcast
Become a Patron on Patreon: https://www.patreon.com/eventsdemystified
—————————
Tree-Fan Events offers Hybrid Event Production Services: https://treefanevents.com/hybrid-event-services/
—————————
If you like our podcast, please show us some love by subscribing to this podcast on your favorite listening platform and following us on Instagram. By leaving a great review and hitting the 5 stars, you make this Podcast visible to other listeners with the same interests as you. Until next time!
—
Send in a voice message: https://anchor.fm/eventsdemystified/message