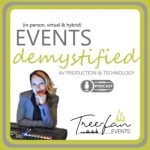 During today's episode, you're guaranteed to get a fresh dose of energy and optimism from a pint-size nuclear energy bomb, my featured guest Thuy Diep
Senior Experience Designer at the Austin-based full-service creative & event agency, Haute. She continues to positively impact the #EventProfs industry as the 2021 BizBash's Top 500 Influential Event Professionals and 2020 40 under 40 honorees (which we now both have in common) and today, she's bringing a fresh perspective to our audience on these three important topics:
how to overcome the imposter syndrome as a refugee and first-gen immigrant,
work-life balance when you're involved in many things and live your passion in many ways,
overcoming the fear of failure, especially in an industry where admitting failure is kind of taboo.
—————————
Connect with Thuy via these channels:
Instagram: @thuyndiep
Facebook: https://www.facebook.com/ThuyDiepCheer and
Linkedin: https://www.linkedin.com/in/thuydiep
—————————
"Events: demystified" Podcast is brought to you by Tree-Fan Events and your Podcast Host is Anca Trifan.
Let's chat about your event, schedule a time that works for you via the 20 min free consultation calendar link.
—————————
For event and podcast updates, tips, and tricks of the trade, follow us on these social channels:
Instagram: https://www.instagram.com/eventsdemystifiedpodcast
Become a Patron on Patreon: https://www.patreon.com/eventsdemystified
—————————
Tree-Fan Events offers Hybrid Event Production Services: https://treefanevents.com/hybrid-event-services/
—————————
If you like our podcast, please show us some love by subscribing to this podcast on your favorite listening platform and following us on Instagram. By leaving a great review and hitting the 5 stars, you make this Podcast visible to other listeners with the same interests as you. Until next time!
—
Send in a voice message: https://anchor.fm/eventsdemystified/message