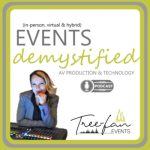 Have you heard of the SEEDS Principle before? Neither have we until we met today's guest, Jason Marmon, Director of US Energy, Environmental Sciences, Sustainability, & Social Entrepreneurship, a social entrepreneur and a humbled optimist who will talk to us today about actionable sustainability and what it takes to coordinate sustainable solutions through the SEEDS principle, as well as event coordination and organization of sustainable events and social entrepreneurship before and post-Covid.
—————————
Connect with Jason on Linkedin: https://www.linkedin.com/in/jason-marmon/
Learn more about the Carbon Summit here: https://www.boisestate.edu/sustainability/carbon-summit-22/
—————————
"Events: demystified" Podcast is brought to you by Tree-Fan Events and your Podcast Host is Anca Trifan.
Let's chat about your event, and schedule a time that works for you via the 20 min free consultation calendar link.
Original Podcast Music written and produced by Fable Score.
—————————
For event and podcast updates, tips, and tricks of the trade, follow us on these social channels:
Instagram: https://www.instagram.com/eventsdemystifiedpodcast
Become a Patron on Patreon: https://www.patreon.com/eventsdemystified
—————————
Tree-Fan Events offers Hybrid Event Production Services: https://treefanevents.com/hybrid-event-services/
—————————
If you like our podcast, please show us some love by subscribing to this podcast on your favorite listening platform and following us on Instagram. By leaving a great review and hitting the 5 stars, you make this Podcast visible to other listeners with the same interests as you. Until next time!
—
Send in a voice message: https://anchor.fm/eventsdemystified/message