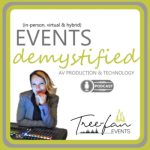 On the show with me today I have a beautiful inside and out, equal parts sweet and sass, Brittney Shea Cobb, a Global Meeting Planner with Innov8 Meetings+Events, and a well-rounded leader in the hospitality industry with over 15 years of experience ranging in the hotel, casino, food & beverage, and special events.
Tune into this brand new episode in which we will:
explore and demystify the world of contracts in the events and hospitality world,
how you can negotiate a strong contract for your event that protects you and your organization,
guidelines, value adds, must-ask questions cheat sheet, and
how has force majeure changed our contracts for the better or worse?
—————————
Connect with Brittney via these channels:
Instagram: @BrittneySheaCobb / Facebook: https://www.linkedin.com/in/brittneycobb
Linkedin: https://www.linkedin.com/in/brittneycobb
__________
"Events: demystified" Podcast is brought to you by Tree-Fan Events and your Podcast Host is Anca Trifan.
Let's chat about your event, and schedule a time that works for you via the 20 min free consultation calendar link.
Original Podcast Music written and produced by Fable Score Music.
——————
For event and podcast updates, tips, and tricks of the trade, follow us on these social channels:
Instagram: https://www.instagram.com/eventsdemystifiedpodcast
Become a Patron on Patreon: https://www.patreon.com/eventsdemystified
——————-
Tree-Fan Events offers HYbrid Event Production services: https://treefanevents.com/hybrid-event-services/
—————————
If you like our podcast, please show us some love by subscribing to this podcast on your favorite listening platform and following us on Instagram. By leaving a great review and hitting the 5 stars, you make this Podcast visible to other listeners with the same interests as you. Until next time!
—
Send in a voice message: https://anchor.fm/eventsdemystified/message