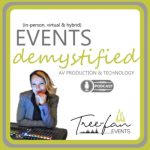 On the show with me today I have Frank Carlisi, Co-Founder and Event Producer for the ExV Agency, where he continues to uplift and empower as many people as possible through his unique events strategies, creative thinking, and dedication to building lasting and authentic relationships with everyone he works with, as we're demystifying ways in which organizations can better equip themselves with the information, tools, and resources needed for successfully engaging a broad range of partners, other organizations and individuals in their communities to achieve their goals.
Three Fun facts about Frank:
runs an Event Production and Business Development Agency, however, he is a classically-trained chef,
he's building out an unscripted television docu-series department for his agency, the content will be available on network television in 2022 and beyond,
he is the co-founder of a non-profit called WOMEN BUILDING WOMEN which focuses on creating career opportunities through mentorship for women from underserved communities around the USA.
—————————
Connect with Frank here: https://info4561875.wixsite.com/frank-carlisi-exv-ag
Support Women Building Women here: https://givebutter.com/women-building-women
—————————
"Events: demystified" Podcast is brought to you by Tree-Fan Events and your Podcast Host is Anca Trifan.
Let's chat about your event, and schedule a time that works for you via the 20 min free consultation calendar link.
Original Podcast Music written and produced by Fable Score Music.
—————————
For event and podcast updates, tips, and tricks of the trade, follow us on these social channels:
Instagram: https://www.instagram.com/eventsdemystifiedpodcast
Become a Patron on Patreon: https://www.patreon.com/eventsdemystified
—————————
Tree-Fan Events offers Hybrid Event Production Services: https://treefanevents.com/hybrid-event-services/
—————————
If you like our podcast, please show us some love by subscribing to this podcast on your favorite listening platform and following us on Instagram. By leaving a great review and hitting the 5 stars, you make this Podcast visible to other listeners with the same interests as you. Until next time!
—
Send in a voice message: https://anchor.fm/eventsdemystified/message