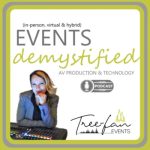 With over a decade of experience in Broadcast Journalism and Production, Sarah Soliman brings her producing and reporting experience into her own company, Soliman Productions covering the meetings industry at large, with a team of like-minded creative professionals equipped to respond to all video and photographic requirements. Currently, Sarah is the face and content creator of MPI.tv and works with MPl's publication, The Meeting Professional to produce year-round video content. Her passion for the industry is also reflected through important industry issues including sexual harassment in meetings and events, working to educate on preventative measures meeting professionals can pro-actively implement into their contingency plans. Sarah hopes to continue inspiring and educating meeting professionals in all facets of their careers through various initiatives she finds great passion in. *
In light of the latest Rant released on May 1st – which has gotten a lot of attention and many direct messages from #womeninAV who have dealt with #toxicmasculinity once or twice in their life, I am so excited to release this episode and the topic discussed which embodies confidence and competence, a sure way to put toxicity down on its paws. Sarah Soliman is an amazing role model, someone that has had to pave her own path and overcome, inspiring and mentoring more women to do the same, and so I have no doubt that you will love today's episode!
—————-
Connect with Sarah here: https://www.linkedin.com/in/sarahsolimandaudin/ or on Instagram @sarahmariesoliman
__________
"Events: demystified" Podcast is brought to you by Tree-Fan Events and your Podcast Host is Anca Trifan.
Let's chat about your event, and schedule a time that works for you via the 20 min free consultation calendar link.
Original Podcast Music written and produced by Fable Score.
——————
For event and podcast updates, tips, and tricks of the trade, follow us on these social channels:
Instagram: https://www.instagram.com/eventsdemystifiedpodcast
Become a Patron on Patreon: https://www.patreon.com/eventsdemystified
——————-
Tree-Fan Events offers HYbrid Event Production services: https://treefanevents.com/hybrid-event-services/
—————————
If you like our podcast, please show us some love by subscribing to this podcast on your favorite listening platform and following us on Instagram. By leaving a great review and hitting the 5 stars, you make this Podcast visible to other listeners with the same interests as you. Until next time!
—
Send in a voice message: https://anchor.fm/eventsdemystified/message