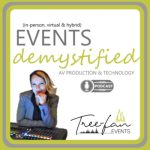 On the show with me today I have my dear event production friend, Jason Brown of Vid-Live Events, a multi-faced individual, proud of his almost two decades in the #eventproduction industry as a senior video engineer, LED engineer, projection specialist, and video project manager, all the while hustling like no other, pursuing many business and personal opportunities, such as building a real-estate empire in Las Vegas, competing in martial and body-building competitions, advancing #diversity #equity #inclusivity change and awareness wherever he goes, I mean this guy is amazing and seems to be doing it all, and I am super stoked to have had him on the show.
I've personally had the pleasure of working side by side with Jason on a large project down in So Cal and seeing him in action, tackling challenges head-on, troubleshooting on the fly while keeping his cool, acting like the professional he is, while also being so much fun to be around. Honesty and integrity, along with determination and dedication are indeed Jason's guiding principles in all aspects of his life. So let's bring him and get started.
Tune into this unique brand new episode in which we demystify show prep, changing trends in video production while also tackling the tough subject of diversity and inclusivity, the challenges and barriers many of us still face in event production, but also the opportunities for growth that as event planner and producers we have to increase representation and build a better community for our events, but also for our event production teams and labor crews.
—————-
Connect with Jason on his website, on LinkedIn, or on Instagram @yournewkeyswithme
__________
"Events: demystified" Podcast is brought to you by Tree-Fan Events and your Podcast Host is Anca Trifan.
Let's chat about your event, and schedule a time that works for you via the 20 min free consultation calendar link.
Original Podcast Music written and produced by Fable Score Music.
——————
For event and podcast updates, tips, and tricks of the trade, follow us on these social channels:
Instagram: https://www.instagram.com/eventsdemystifiedpodcast
Become a Patron on Patreon: https://www.patreon.com/eventsdemystified
——————-
Tree-Fan Events offers HYbrid Event Production services: https://treefanevents.com/hybrid-event-services/
—————————
If you like our podcast, please show us some love by subscribing to this podcast on your favorite listening platform and following us on Instagram. By leaving a great review and hitting the 5 stars, you make this Podcast visible to other listeners with the same interests as you. Until next time!
—
Send in a voice message: https://anchor.fm/eventsdemystified/message