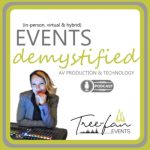 "Evolve into the complete person you were intended to be." Oprah Winfrey
My next featured guest on the Events: demystified Podcast is someone that has been in the event industry for a minute or two, an amazing person you feel drawn to the moment you meet, my dear friend, #eventprof, and fellow event industry podcaster, Jen Salerno, CMP, DES. You're going to very much enjoy this honest conversation, Jen Salerno is a 20-year veteran of the hospitality & events industry.
Throughout her career, Jen has worked with and consulted for many of the biggest trade shows in the country and specializes in strengthening the relationship between event planners and the hospitality community.
Today, she is the owner of JTS Connect, which provides live and virtual event host/emcee and moderating services. She is also the host of The Room Block, the podcast where hospitality and event professionals meet.
—————-
Connect with Jen on LinkedIn, or on her website: www.jtsconnect.com
—————————
"Events: demystified" Podcast is brought to you by Tree-Fan Events and your Podcast Host is Anca Trifan.
Let's chat about your event, and schedule a time that works for you via the 20 min free consultation calendar link.
Original Podcast Music written and produced by Fable Score Music.
—————————
For event and podcast updates, tips, and tricks of the trade, follow us on these social channels:
Instagram: https://www.instagram.com/eventsdemystifiedpodcast
Become a Patron on Patreon: https://www.patreon.com/eventsdemystified
—————————
Tree-Fan Events offers Hybrid Event Production Services: https://treefanevents.com/hybrid-event-services/
—————————
If you like our podcast, please show us some love by subscribing to this podcast on your favorite listening platform and following us on Instagram. By leaving a great review and hitting the 5 stars, you make this Podcast visible to other listeners with the same interests as you. Until next time!
—
Send in a voice message: https://anchor.fm/eventsdemystified/message