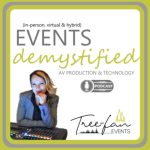 On the show with me today I have Marlene Robinson, event producer, and personal development expert who after 20 yrs in corporate America, left her career job and moved to Idaho where she plugged herself into the community by orchestrating retreats and events that grew into city-wide events for women with hundreds in the audience. Find out how COVID-19 stopped her in her tracks, but not for long and how she managed to turn lemons into lemonade by being resourceful, resilient, and relentless in her pursuit of following her passions.
—————-
Connect with Marlene on LinkedIn, or on Facebook
Check out Marlene's GIFT: 10 tips for producing outstanding events
—————-
"Events: demystified" Podcast is brought to you by Tree-Fan Events and your Podcast Host is Anca Trifan.
Let's chat about your event, and schedule a time that works for you via the 20 min free consultation link.
Original Podcast Music written and produced by Fable Score Music.
—————-
For event and podcast updates, tips, and tricks of the trade, follow us on these social channels:
Instagram: https://www.instagram.com/eventsdemystifiedpodcast
Become a Patron on Patreon: https://www.patreon.com/eventsdemystified
—————-
Tree-Fan Events offers Hybrid Event Production Services: https://treefanevents.com/hybrid-event-services/
—————-
If you like our podcast, please show us some love by subscribing to this podcast on your favorite listening platform and following us on YouTube and Instagram. By leaving a great review and hitting the 5 stars, you make this Podcast visible to other listeners with the same interests as you. Until next time!
—
Send in a voice message: https://anchor.fm/eventsdemystified/message